There are plenty of reasons to have a wedding in the autumn or winter months instead of a more typical summer celebration, from more wallet-friendly prices to better chances of venue availability.
The best part of getting hitched out of season? The wedding dresses, cover-ups and accessories an autumn or winter affair allows you to play around with.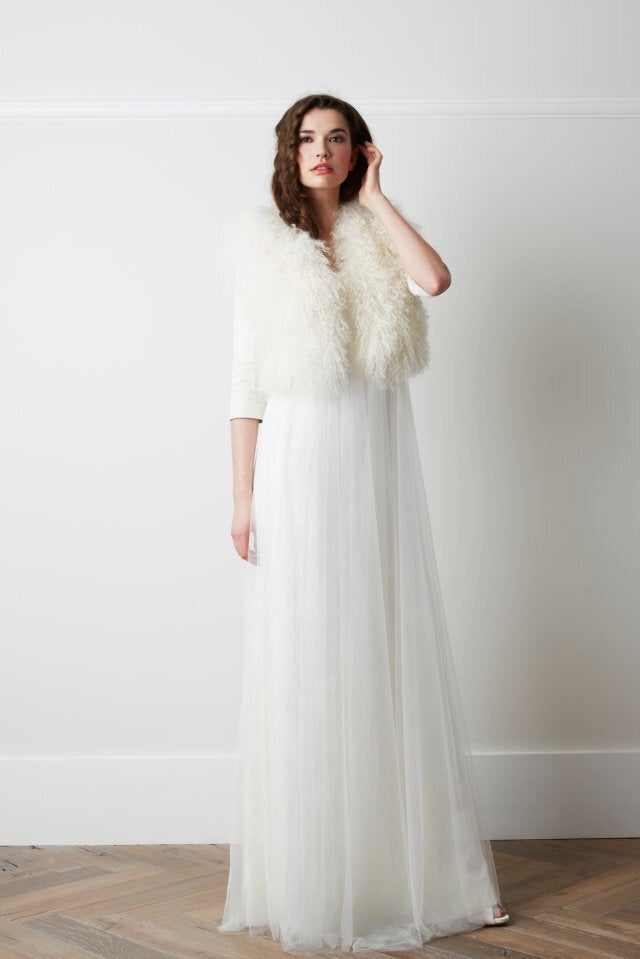 "Winter is such a perfect time to get married as you can really accessorise your dress for the big day," says ready-to-wear and bridal designer Charlie Brear, who also sells cover-ups like cropped leather jackets and Mongolian wool gilets to team with any wedding dress for a one-of-a-kind look.
"Starting with a simple crêpe, satin or chiffon dress and layering everything from sequined overdresses and tiered skirts to washed silk sashes, a bespoke look can effortlessly be created and customised," Brear told us.
"Combinations of these individually stunning pieces allow endless possibilities to transform a look throughout the day and night."
A few things for autumn and winter brides to keep in mind when choosing a dress?
Fabric is key - you can go heavier in the colder months so anything from satins to velvets and brocades work beautifully. Also, silhouette: this is the time of year to go full-sleeved, so you stay comfy and warm (without a cover-up).
When choosing your wedding dress, let the season help dictate and inspire the style and embrace festive-season embellishments like jewels, beads, feathers and fur trim for day-to-night sparkle. To stay warm, angora and cashmere cardigans, faux fur boleros and capes and cropped jumpers and jackets are all options to keep you cosy without sacrificing your bridal style.
As far as colour, autumn/winter weddings are a great time to experiment with hues beyond basic ivory and cream.
Embellished metallic dresses in silver and champagne colours work beautifully, gold-tone accents are gorgeous against autumnal backdrops, while a deep burgundy or navy hue will stand out on a cold December day.
Or take a leaf out of Vera Wang's Autumn 2014 bridal style book and opt for a head-turning shade of pink (anything goes, from blush to shocking coral).
Click through the slideshow below for 10 gorgeous autumn/winter wedding dresses to suit a variety of bridal styles and budgets...