Grantchester, the quaint little Cambridgeshire village previously best known for housing poet Rupert Brooke, writer Jeffrey Archer and the world's highest concentration of Nobel prize winners, has been given a new lease of life by this period detective drama, starring Robson Green as a policeman uncommonly assisted by a hot-under-the-collar vicar Sidney Chambers (James Norton).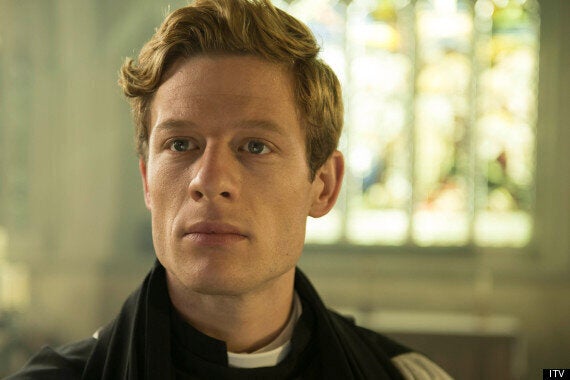 James Norton is the troubled clergyman Sidney Chambers in brand new 'Grantchester'
This debut episode found the clergyman recruited by a parishioner to investigate what had really happened to her seemingly suicidal lover. Before long, he'd found himself at the police station sitting across the messy desk of our weary Inspector Geordie Keating, a man you just know is a good egg because a) he's wearing braces, and b) he's Robson Green.
Although Mr Green is the 'name' here, he has relinquished leading man duties, and seems all the happier for it. I've had a sneaking suspicion for years that this family favourite's been wanting to break out and reveal his eccentricities, something he finally got the chance to do with 'Wire in the Blood', and it's the same here - relaxed and quirky.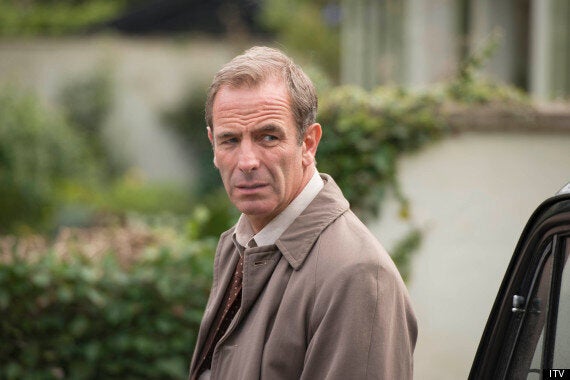 Robson Green is shabby and relaxed in his supporting role
Leading duties go instead to James Norton, whose white reverend collar and thoughtful attitude do little to dispel the fact that, in him, we have another great TV, possibly big screen, star in the making. Bravo to ITV bosses for giving him this great gig - as a young vicar, traumatised by war, disappointed in love, comforted through music, compassionate and curious to the core. No wonder all these ladies of the parish are feeling the urge to admit all their sins. One episode in and, I confess, I'm hooked.
'Grantchester' continues next week on ITV. Pictures below...