After 10 long, forehead-wiping hot, occasionally controversial, weeks, we've arrived at this year's 'Great British Bake Off' final, with three highly-skilled bakers vying for the title of 2014 champion.
REVIEW: Semi-Final Makes For An Awful Lot Of Pastry Puff
In tonight's series climax, the finalists will be tasked with creating a Viennoiserie in the signature round, then a technical challenge with ingredients but NO instructions at all, and finally a FIVE-HOUR show stopper to come up with their individual take on a Piece Montee. (Nope, me neither.)
London builder turned shining light Richard looks a hard man to beat. That pencil behind his ear has led him to be crowned star baker on a record five occasions so far this series, with bookies currently pitching him as an evens favourite to walk off with this year's title.
And his trade colleagues, via the Federation of Master Builders, are even basking in some reflected glory. Their chef executive released a statement only yesterday, saying, "The FMB is extremely proud that our member Richard Burr is challenging stereotypes about builders. Today's modern builders are often multi-talented as demonstrated by Richard's brilliant performance on TGBBO."
However, ahead of tonight's final, judge Paul Hollywood has intimated that it will be a "very close" finish between the final three - Richard Burr, Nancy Birtwhistle and Luis Troyano. See what he has to say on each of them below...
Along the way, we've seen the youngest ever contestant asking herself why she's shedding tears over cake, we've seen Scottish heartthrob Norman get creative with a bit of icing sugar (that was it!) and, of course, there was #bingate, when Belfast's beardy Iain flung his Baked Alaska into the nearby trash, after it had failed to set, and rumours that he'd been sabotaged by rival baker Diana having to be firmly egg-beaten away by the likes of Sue Perkins and Paul Hollywood on Twitter.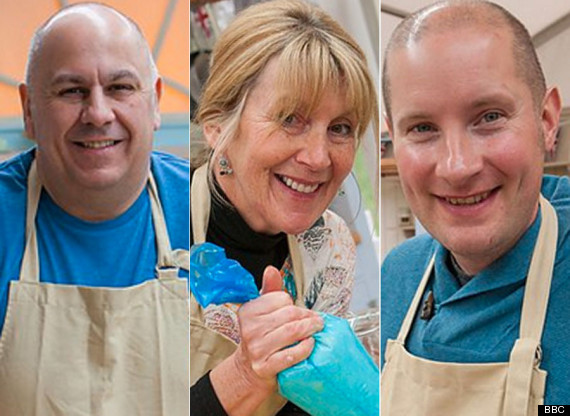 Luis, Nancy and Richard are this year's final three - who will triumph?
Here we are, then, with the final three rolling up their sleeves for a final session in the tent. But who do you WANT to win? And who SHOULD? This is who it's between...
LUIS
Stockport-born of Spanish heritage, Luis is completely self-taught, delighting in using ingredients from his own allotment, and the honey from his beehives. Luis's special skill on the show has been his presentation, with castles and flowers coming from his spatula. Luis's personal favourite thing to cook - Bakewell Tarts.
Paul's verdict: "He is the creative one the great innovator, he comes up with flavour combinations that are frankly, divine. He has slipped a couple of times but he has been fairly consistent, but he has dropped on some of his ideas. Artistically he is up there, one of the top ever."
NANCY
Hull-born and living in Lincolnshire, Nancy runs a homestead her family describe as 'The Good Life' - growing her own vegetables, raising her own turkeys and learning French to better understand that nation's recipes. Nancy's had a gadget for every occasion on the show so far. Her speciality dish - Lemon Meringue Pie.
Paul's verdict: "One of the most consistent people we have ever had on Bake Off, she has never ever been in the danger zone, all of the others have been. She has just been there all the way along and the final was built for her."
RICHARD
The affable builder from North London has had an amazing run so far on the show, winning Star Baker a record five times. Richard's laid-back attitude belies his attention to detail, and he always seems to provide an extra dash, putting his cakes on a staircase when the occasion demands. Richard's ideal bake - Bread.
Paul's verdict: "He is the precision baker, a typical builder with his pencil behind the ear. When he nails it he is bang on. Going into the Bake Off final he is very strong."
Who would you like to see crowned this year's Bake Off Baker? Vote below...
Of course, if the world was fair, everyone would win something and Norman would have his own show. In the meantime, we can only remind ourselves of all this year's bakers... and look forward to the next one.
LIKE US ON FACEBOOK | FOLLOW US ON TWITTER