Warning: the images in this article contain nudity
As any breast cancer survivor knows, the impact of the disease lasts long after receiving the all-clear from doctors.
In fact, the effects of treatments such as mastectomy - where breast tissue and sometimes nipples are removed - can greatly impact a patient's self-confidence and emotional recovery.
But one woman is looking to change that. Amy Black, a tattoo artist from Ohio, specialises in mastectomy tattoos to cover scarring with intricate designs or, even, recreating a nipple shape.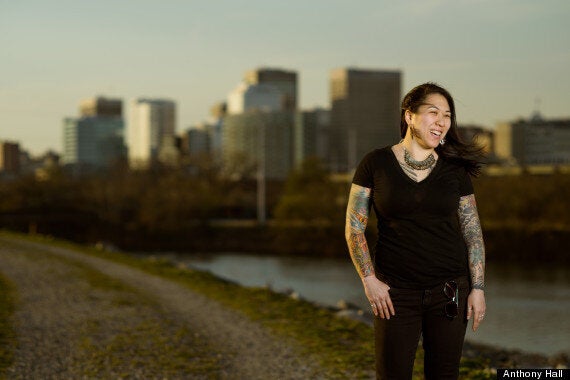 She first started tattooing post-mastectomy scars - or "nipple and areola repigmentation" - in 2011, when approached by individual women who had undergone treatment to remove breast tissue.
Not only was Amy struck by the sheer demand for mastectomy tattoos, but by the lack of funding for treatment that many see as "the final stage" or "completion of their cancer journey".
And so, Amy created The Pink Ink Fund, an organisation to cater to those in financial need - because, after all, cancer doesn't discriminate according to financial means.
Originally a private fund, the Pink Ink Fund was awarded not-for-profit status in Spring 2014, and has catered to a range of women over the past three years.
But these aren't your average tattoo clients and dealing with women in post-cancer recovery requires a special kind of care and attentiveness.
"Even though we may only be in each other's presence for a few hours, I treat them all the women as I would want to be treated," Amy tells HuffPost UK Lifestyle. "I try to be as respectful and attentive to each person, because they deserve the best I can give them, and I make sure to thank them for allowing me to be a part of their journey."
Amy's breadth of client list really hits home. The women she treats age from 30 to 70 years old; they are mothers, grandmothers, wives and daughters; they work 9-5 jobs.
Their tattoo choices vary considerably - as mentioned, many women simply want nipples tattooed, while other pick a important achievement in their life or get the tattoo they always wanted as a teenager.
"One lady got an initial tattooed on her every time a new grandkid arrived," explains Amy. "Another woman, who was brought up in the wine country, opted for a grapevine. The symbolism of the robust and hardy grapevine that is cut down and down again each year, and continues to regrow, reminded her of her own cancer journey."
Christine Brady, the lady who chose the grapevine tattoo says she finally felt complete after having her mastectomy tattoo.
She said: "From the time of my diagnosis I always knew I did not want to have reconstruction. It just wasn't me. At the same time I never looked at my chest/scars. I just avoided it. I started researching mastectomy tattooing and knew it was exactly what I wanted to do.
"After I had my mastectomy tattoo... the scars were no longer the focal part of my chest. It was beautiful and I actually showed friends my chest for the first time since my mastectomy. It really completed my healing journey and made me feel whole again.
"Amy has definitely made a huge impact in my life. Helping me complete my healing journey and celebrate my life. For that she will always have a special place in my heart."
Here is some of Amy's work (story continues below)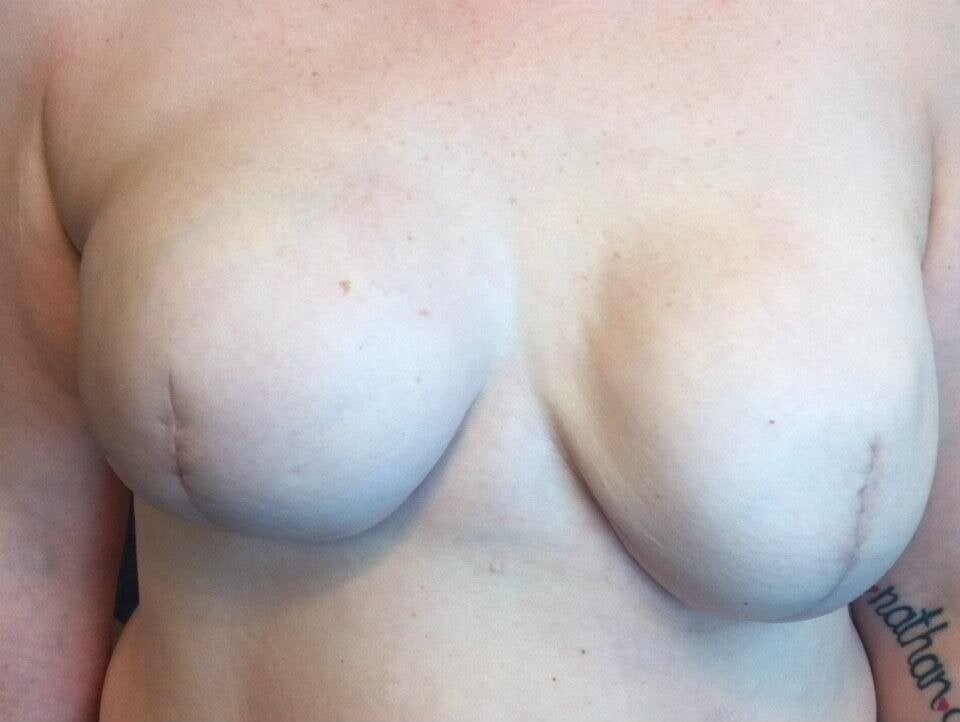 Mastectomy Tattoos
There are complications however, with tattooing over scar tissue, as opposed to 'normal' skin.
"Scar tissue is tricky," explains Amy. "Depending on the texture and appearance of the scar area, the skin can behave differently and sometimes reject pigment.
"Some scars can be ready to tattoo in as little as three months after surgery, while others take up to a year or more until they are ready."
Amy says that the tattoo process can be very emotional, with some women laughing while others sob with relief.
"The emotional toil of having to deal with the diagnosis alone and then the various procedures these women endure is heart wrenching," she says. "As if chemotherapy, radiation, hair loss and weight loss isn't enough then women have to deal with the distress of losing their breasts and having linear, horizontal scaring across their chests as well as their nipples removed.
"And the tattoo part is the final stage of treatment that many see as completion of their cancer journey."
Related