Netherlands coach Guus Hiddink called a meeting between captain Robin van Persie and striker Klaas-Jan Huntelaar following an incident during Friday's 3-1 win over Kazakhstan.
The Kazakhs took a shock lead against the World Cup semi-finalists in the 18th minute and Van Persie wasted a presentable chance to level the match before half-time, much to Huntelaar's chagrin.
The Manchester United forward hit a shot wide when Huntelaar was unmarked at the far post, causing the Schalke goalscorer to animatedly tell Van Persie he should have assisted him, only Van Persie pointedly suggested Huntelaar talked too much.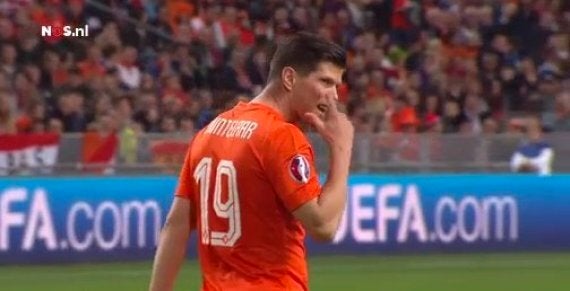 Huntelaar wanted the ball to be played across for him
Despite the public spat, Holland recovered to win the Euro 2016 qualifier 3-1, with Huntelaar levelling in the 62nd minute and Van Persie scoring an 89th minute penalty. Hiddink, though, wanted to address the tension between the duo.
The duo had a sit-down with Hiddink, assistant manager Ruud van Nistelrooy and vice-captain Arjen Robben ahead of Tuesday night's match away to Iceland.
Hiddink said: "We first looked at the pictures again and then everyone was invited to give his opinion. Then it was over."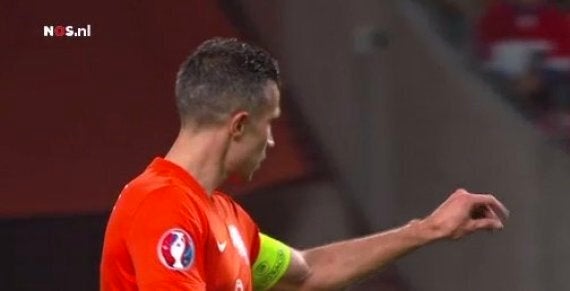 Van Persie suggested Huntelaar was talking too much
"In that position I was right to shoot," Van Persie was quoted as saying after the match. "The reaction from Huntelaar was a bit exaggerated. Anyway, it's normal. He wants to score and that's what we all want."
Huntelaar added: "If that ball had come to me, I could have ran it in to the goal. I was focussed on that chance and wanted to score as soon as possible."