Amnesty International have documented the chilling sectarian attacks including one case where 30 men were allegedly taken from their homes, shot dead and dumped nearby.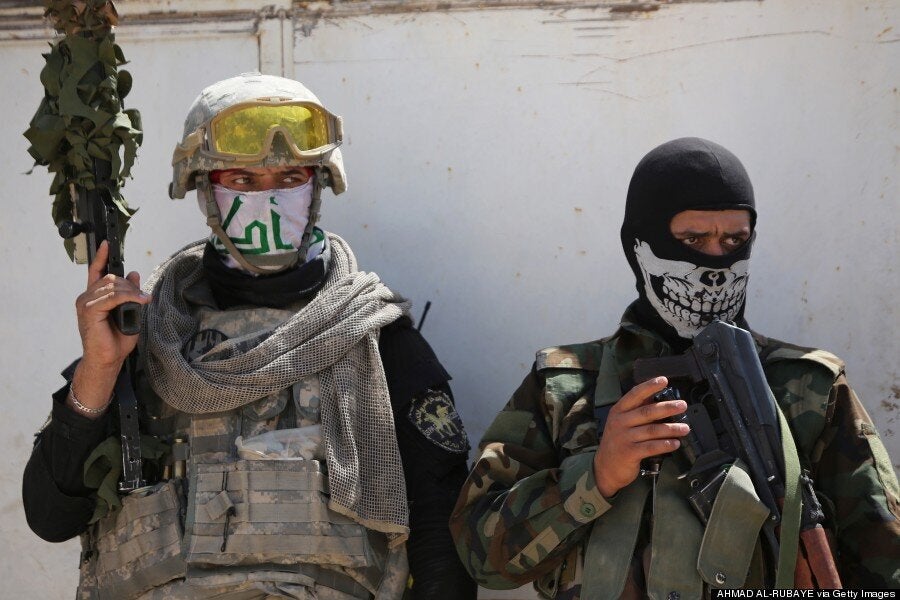 Iraqi Shia militia fighters wearing masks look on near Amerli on September 3
The groups - including the Badr Brigades and the Mahdi Army - have been emboldened to act without impunity after government forces pulled out of the area in June in the face of attacks from IS.
A government official explained that militias "mostly … kidnap Sunnis, because the victims can easily be labelled as terrorists and nobody is going to do anything about it".
At a checkpoint north of Baghdad, Amnesty heard a member of a Shia militia say: "If we catch 'those dogs' [Sunnis] coming down from the Tikrit area we execute them ….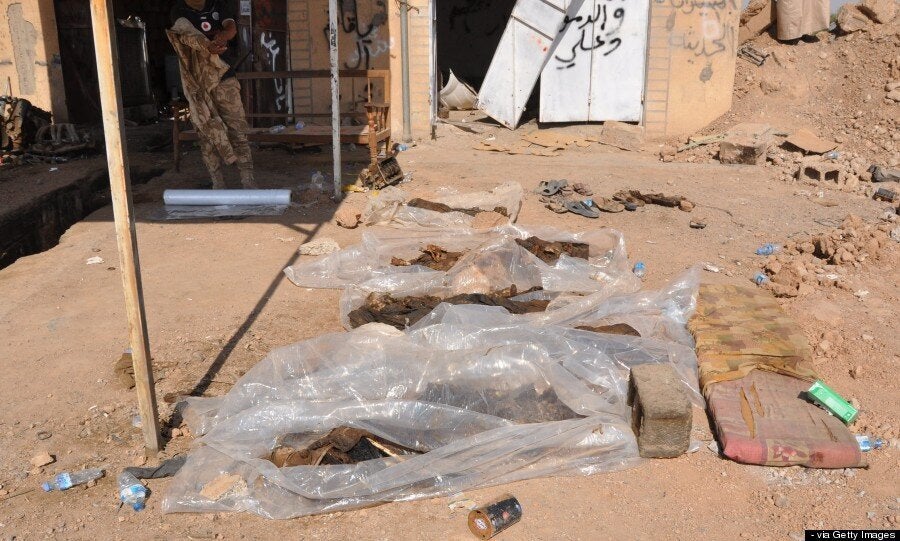 Remains of bodies lie on the ground after being exhumed from a mass grave on September 5
"They come to Baghdad to commit terrorist crimes, so we have to stop them."
Amnesty report the fate of many who have been abducted remains unknown, even after the payment of ransoms.
Salem, a 40-year-old businessman and father of nine from Baghdad, was abducted in July. Two weeks after his family had paid the kidnappers a £37,000 ransom his body was found in Baghdad's morgue with his head crushed and his hands still cuffed together.
The relative of another victim from Kirkuk said: "I have lost one son and don't want to lose any more. Nothing can bring him back and I can't put my other children at risk.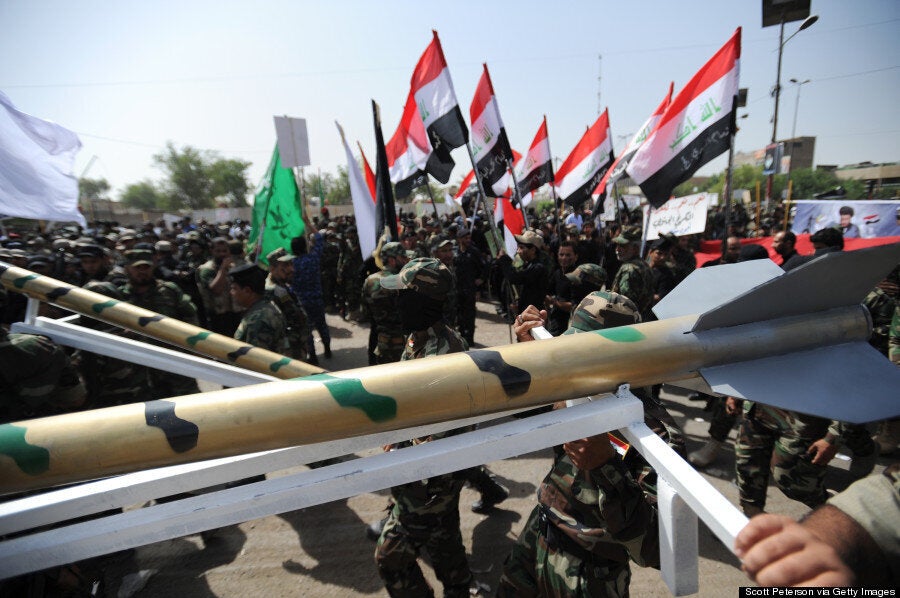 Mahdi Army militia loyal to cleric Moqtada al-Sadr vow to fight ISIS in a show of strength military parade
"Who knows who will be next? There is no rule of law, no protection."
Iraq is no stranger to sectarian violence - the US-led invasion in 2003 set off a cycle of tit-for-tat violence that many described as a full blown civil war, peaking in 2006-07.
Since then tensions have remained but have never descended to the levels of that period where at its peak, over 3,500 people were killed a month.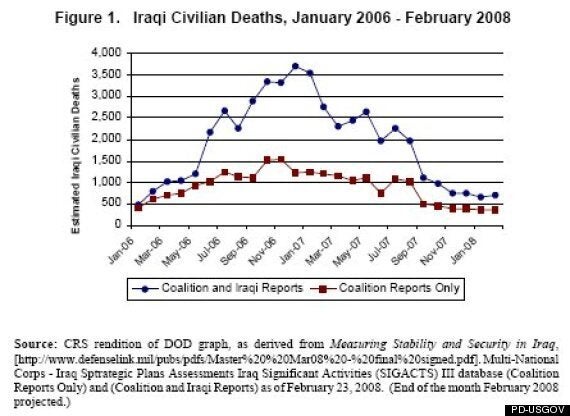 But the deaths of 25 people in a series of bomb blasts this week in predominantly Shia areas of Baghdad, is reminiscent of the violence that rocked the capital during that time.
The rapid spread of Sunni IS risks setting off further reprisals as they continue to take control of large swathes of Iraq.
The fundamentalist group are currently battling Kurdish forces and Western airstrikes as they fight for the town of Kobane near the Turkish border.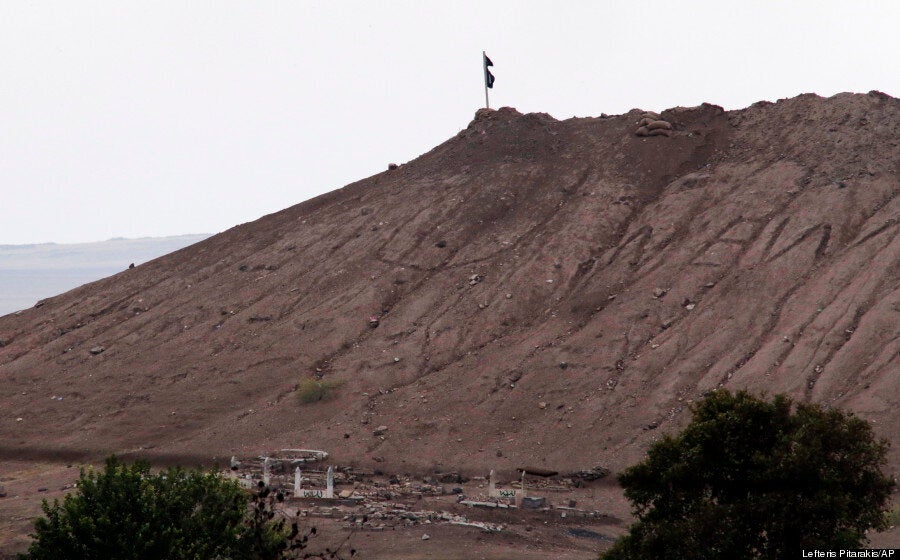 The black flag of IS flies over a hilltop near Kobane
Exacerbating the problem is the behaviour of Iraqi government forces who are also reported to be perpetrating serious human rights violations.
Amnesty has uncovered evidence of the torture and ill-treatment of detainees, as well as deaths in custody, of Sunni men detained under Iraq's 2005 anti-terrorism law.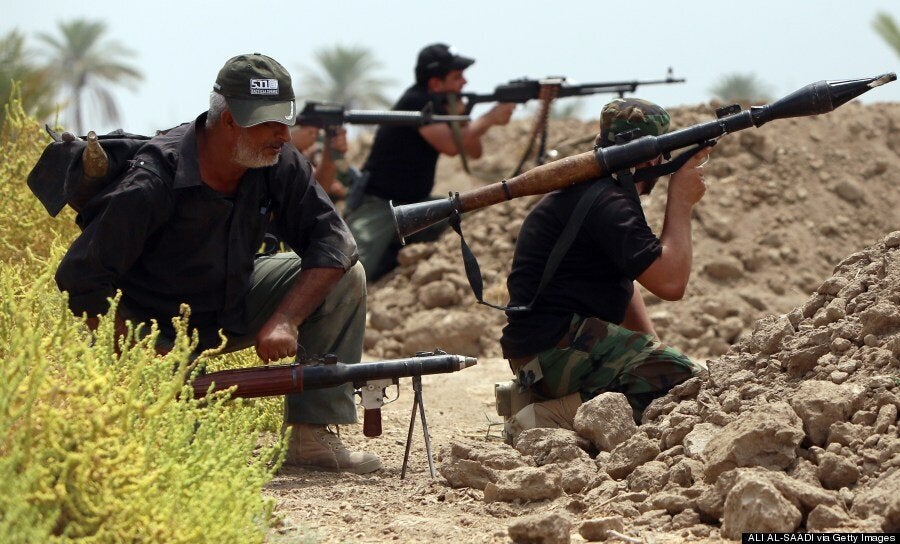 Shiite fighters from the Saraya al-Salam (Peace Brigades), a group formed by Iraqi Shia Muslim cleric Moqtada al-Sadr
In one case, the body of a 33-year-old lawyer and father of two young children who died in Iraqi government custody showed bruises, open wounds and burns consistent with the application of electricity.
Another man held for five months was tortured with electric shocks and threatened with rape with a stick before being released without charge.
Amnesty International's Senior Crisis Response Adviser Donatella Rovera said: "By granting its blessing to militias who routinely commit such abhorrent abuses, the Iraqi government is sanctioning war crimes and fuelling a dangerous cycle of sectarian violence that is tearing the country apart.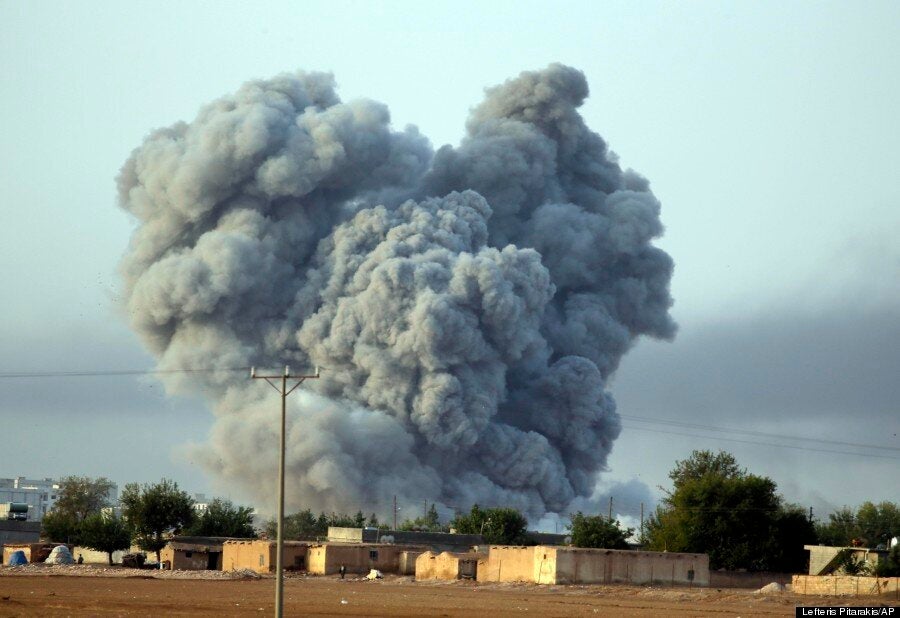 Thick smoke rises following an airstrike by the US-led coalition in Kobane
"Shi'a militias are ruthlessly targeting Sunni civilians on a sectarian basis under the guise of fighting terrorism, in an apparent bid to punish Sunnis for the rise of the IS and for its heinous crimes.
"The new Iraqi government of Prime Minister Haider al-Abadi must act now to rein in the militias and establish the rule of law."