The Sony Walkman NWZ-WS610 waterproof headphones are available now from Sony for £129.
Waterproof to 2m
4/16GB Internal Storage
NFC and Bluetooth
Quick Charge
"Train hard with no interruptions. The NWZ-WS610 Series waterproof Walkman features a lightweight, wrap-around headband that will hold tight whether you're in the pool or on the track. NFC and Bluetooth connectivity1 makes listening easy, so you're free to focus on your workout."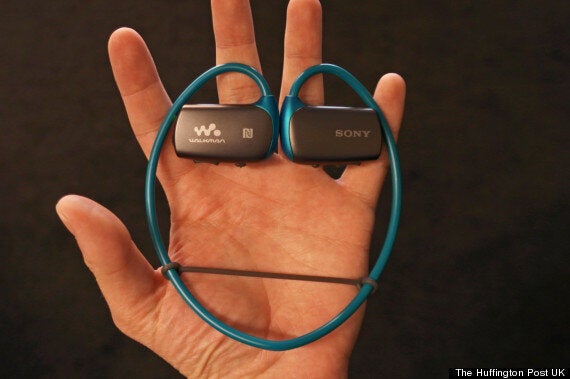 Sony's Walkman range has an identity crisis. Originally a portable music brand, it developed into a logo plastered on a bright orange Sony Ericsson phone before finally ending up as a software and hardware brand that, presumably, in a Powerpoint deck somewhere within Sony HQ, makes sense.
Well anyway, while the large majority of us won't go out and buy a portable high-definition audio player, for those that do Sony has a Walkman product that fills the gap.
The WS610 is the flagship product of Sony's Waterproof Walkman range, and from the outset it's clear that the features list certainly matches up to the price tag.
Completely waterproof to 2 metres these come with NFC, Bluetooth connectivity as well as a finger-worn wireless remote.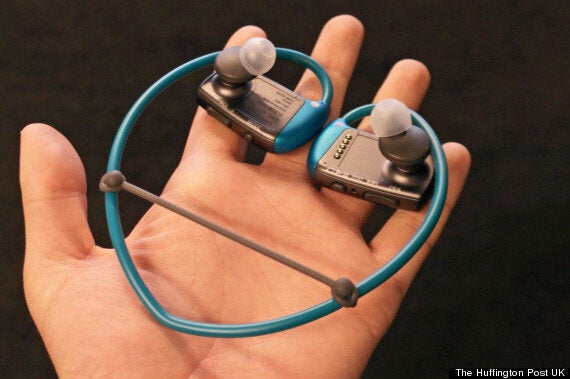 Like the rest of the range they use a lightweight headband that arcs around the back of the head, and has ab adjustable strap you can fine tune for the right fit.
Now at £129 you might be wondering what you get for your money - especially if they're "just for [insert activity here]". in fact it's the same argument you should be rightly having about running headphones.
Well Sony has thought of this and instead the WS610's are designed to be the only pair of sports headphones you'll need to own, whether it's running, swimming or cycling.
They sound decent, for starters. Sony's tweaked a pair of 13.5mm drivers and included the same Clear Phase audio adjustment you'll find on the latest range of Xperia smartphones.
Clear Phase is genuinely useful for cleaning up those rough sounding tracks, though it does have a habit of deafening the lower-end.
This is an issue with the WS610's too, which is a shame. When you're hitting that crucial moment in a run and you turn to a deafening blast of Royal Blood or High Contrast you need it to respond in kind, and it doesn't always make the grade.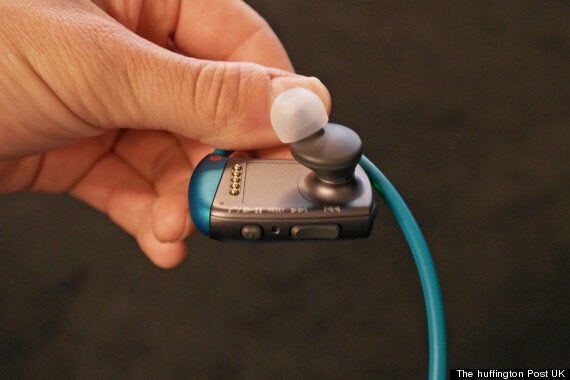 That said the battery life is superb with 7 hours of continuous playback. We used them not only as an MP3 player but also as wireless headphones when running and on our commute, and found the battery life to be exactly the same.
The Quick Charge function is pretty invaluable as well; just three minutes plugged in will get you an hour of playback. Considering how forgetful we are, that feature came in handy.
Adding in NFC and Bluetooth is the game changer here though, it means you can go swimming with the headphones under their own steam, get out of the pool and then connect them to your smartphone.
Gone is the stigma that waterproof headphones have to sound as terrible as they look. These look stylish and while they're obviously a lot bigger than most in-ear headphones they still don't make you look outlandish by a long stretch.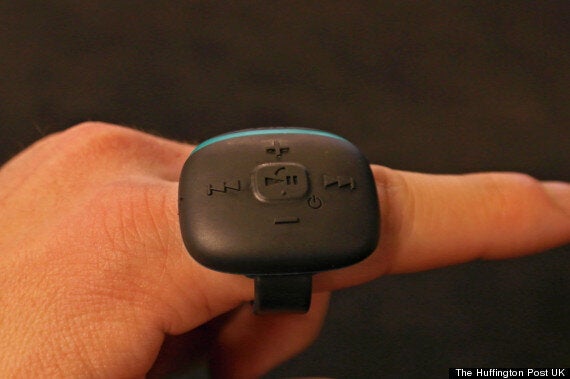 With both dry and waterproof ear buds they negate the need for any silly rubberised designs. The wireless finger remote is a neat idea but is too bulky to be practical. Often it would just fall off because the strap couldn't be tightened any further. We'd recommend tying it to your shorts to save crawling around trying to find it. Or you know, you could just use the buttons on the headphones.
If we had any complaints it would be that continuous listening can become uncomfortable, they're heavier than your average earphones and that's a lot of strain that's going through the ear buds.
Aside from that these are hard to fault. Fitness headphones are, in many respects, more of an individual choice than personal headphones. They're worn when we're at our most flustered so every person will have a very specific idea of how they should be. If like us you prefer convenience over a drawer full of different headphones then you'd do a lot worse than investing in these.