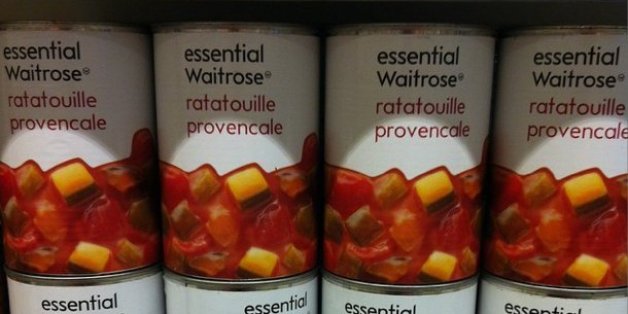 StevenMPerkins/Instagram
Back in your parents' day, essentials looked like bread, cheese and milk. Fast forward to today, and supermarket essentials look like baby avocados, cotton flower ironing water and kelp soap.
Okay, maybe not all supermarkets. In fact, let's be honest here, there's only one supermarket where mixed olive foccacia is considered an 'essential': Waitrose.
The supermarket's Essentials range is meant to be a cheaper version of other brands in the store, while still retaining the level of quality. However, that didn't stop Twitter users from making fun.
The UsVsTh3m website posted a brilliant piece, with the caption under the artichoke hearts saying: "We don't even know what to do with these, but we now know we can't live without them."
Here are some of our favourite Twitter comments:
One cannot bear to be without these absolute essentials. #WaitroseEssentials pic.twitter.com/jzhfftm3cr

— Richard Neary (@richard_neary) October 12, 2014
@TripeUK @WillyPongoColes I'm in @waitrose which is shockingly devoid of tripe. Expected it to be part of their essentials range :(

— Andrea Butcher (@mossbat) October 11, 2014
No orecchiette in the Waitrose essentials pasta range. Honestly, what utter madness.

— Harry Pearson (@camsell59) October 8, 2014
Only at Waitrose do you get an essentials range of mixed olives focaccia bread! pic.twitter.com/jPwYgSNLgn

— Martin Woods (@mocwoods) October 6, 2014
Love that Waitrose Essentials range includes rosemary and sea salt focaccia #middleclass

— Melanie Scott (@HestiaHotspur) October 6, 2014
Every time I come to Waitrose I seem to find a new Essentials lol. http://t.co/x7HKnIeOMc

— Steven Perkins (@stevenperkins) August 16, 2014
Waitrose's idea of 'essentials' differ somewhat from 'essentials' found at the local #FoodBank ..... pic.twitter.com/5c8HftaxFO

— Marcher Lord (@MarcherLord1) August 6, 2014
Anytime I see anything from the Waitrose Essentials range, I imagine a posh kid shouting about it. "IT IS ESSENTIAL I HAVE BRIOCHE."

— manytypesoftea (@manytypesoftea) May 7, 2014
A Waitrose spokeswoman, reported the Mail Online, said that they have plans to add 500 more items to the line.
"Put simply, if it's essential to our customers, it's essential to us. Nearly eight out of ten baskets at our supermarket now contain at least one essential Waitrose item."
This isn't the first time Waitrose has (lovingly) been the butt of middle class jokes - the Overheard in Waitrose Facebook page is extremely popular.
Take a look if you missed it the first time round...
SEE ALSO:

How To Make Perfect Scrambled Eggs