The father of Jules Bianchi admits his son's situation is "desperate" and that it is a "miracle" he is still alive but believes he will "not give up" his fight for life.
It is now nine days since Bianchi sustained brain injuries following an horrific accident during the Japanese Grand Prix on October 5.
Upon his arrival at the Mie General Medical Centre in Yokkaichi, the 25-year-old Frenchman underwent immediate surgery, but remains in a critical condition.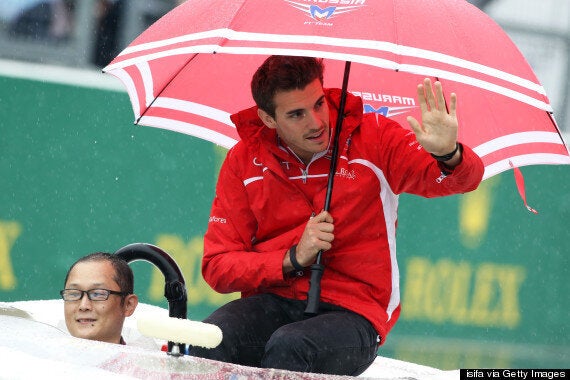 Bianchi pictured before his crash in Suzuka
Bianchi's father Philippe, mother Christine, brother Tom and sister Melanie have since maintained a bedside vigil.
Speaking for the first time since the accident, Philippe said: "The situation is desperate. Every time the telephone goes we know it could be the hospital to tell us Jules is dead.
"He will not give up, I'm sure of that. I can see it. I believe it."
In an interview with Gazzetta dello Sport, Philippe added: "I speak to him. I know he can hear me. His doctors have told us this is already a miracle, no-one has ever survived such a serious accident. But Jules won't give up.
"His trainer Andrea (Ferrari) says if there is one person who can make it happen, with his will, it's Jules."
Following an investigation into the cause of the crash, FIA race director Charlie Whiting concluded there was "a perfect storm" of conditions.
With heavy rain falling and the light fading, Bianchi smashed into the back of a recovery vehicle that at the time was removing the Sauber of Adrian Sutil who had spun off the Suzuka circuit and into a tyre barrier one lap previously.
Although the FIA is due to bring in new safety measures, Whiting further stated with regard to the Bianchi incident "nothing could have been done better".