A gentleman with a rather unusual predilection made his way onto the 'This Morning' run-down today.
Viewers were introduced to Edward Smith, now 63, who has slept with 700 lovers since he was 14. Quite impressive, until you check the small print... it turns out only one has been another person, the rest have all been cars.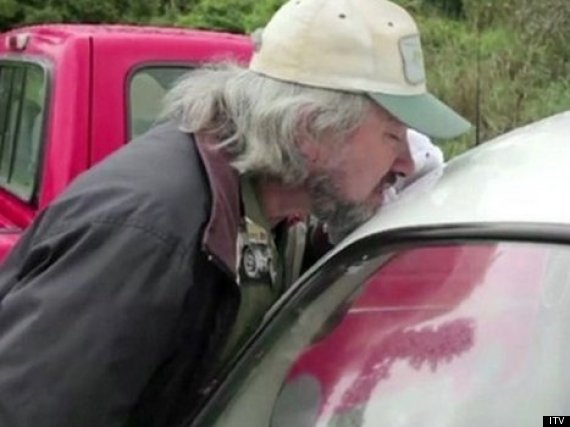 Edward with his long-term love, a Volkswagen Beetle
There is a word for this kind of attraction - mechaphilia, to describe someone sexually attracted to machines.
Suffice to say Phil couldn't quite get his head around it.
@Schofe @Amanda_Holden "What would happen if someone rear ended her" 😂 #sexwithcars Got to love these expressions! pic.twitter.com/ngqk94SMWB

— Jiffy Matharu Paul (@JiffyMPaul) October 14, 2014
I can't take much more, @Schofe on @itvthismorning talking to the guy who has #sexwithcars: "What happens if someone rear-ends her?" #haha

— James Leyfield (@JamesJourn) October 14, 2014
And it turns out Edward isn't picky. He hasn't got a type. In that time, he's 'bedded' Mustangs, Jaguars.
Ok ! We shouldn't try to rationalise this at all, it's wrong and simply CRAZY ! 🙈🙉🙊 #sexwithcars

— Flint Bedrock (@flintbedrock) October 14, 2014
Oh and did we mention the helicopter?
Oh my god just watched the #sexwithcars interview on #thismorning; He briefly had a relationship with a helicopter #tofar

— Dale Bennett (@DaleBennett91) October 14, 2014
That's it I've heard it all!! A 3some with a VW beetle & a helicopter!!! @itvthismorning #SexWithCars #RearEndedVanilla @Schofe

— Nicola Owens (@1Nkko3) October 14, 2014
Sorry, what? He's had sex with a helicopter? #sexwithcars #sexwithhelicopters 🚁🚗🚚🚌🚜🚲

— Isabelle (@isabellerfox) October 14, 2014
TV viewers saw Edward with his long-time love, a Volkswagen Beetle.
'There's this deep, very deep love... I wouldn't want anything to separate us' Edward shares his feelings for his car Vanilla #SexWithCars

— This Morning (@itvthismorning) October 14, 2014
It quickly became a hot topic across the UK.
@chrissiesavvas More surprisingly, so is #sexwithcars.

— Matthew Cannon (@matthewlcannon) October 14, 2014
Then the puns started.
Wow. He must be exhausted... #sexwithcars pic.twitter.com/zElq8Xje9l

— Explovia (@explovia) October 14, 2014
Not tonight dear, I'm tyred. #sexwithcars

— MarLen (@MarkLeneve) October 14, 2014
This guy on #ThisMorning... Hope he uses protection. #sexwithcars pic.twitter.com/Jo4Kp6rar1

— Ryan Love (@RyanJL) October 14, 2014
NOPE
We tried #sexwithcars once, unfortunately it backfired! pic.twitter.com/sCvVKKrexk

— AutoTrader.co.uk (@AutoTrader_UK) October 14, 2014
And apparently people can get even weirder...
#sexwithcars wow how bizarre but I have heard of it. Saw a programme about a woman in love with a bridge, now that's weird😳

— Helen White (@xubithecat) October 14, 2014
'Vroom vroom', surely?
#SexWithCars is trending.... broom broom

— Elyar Fox (@ElyarFox) October 14, 2014
But some took it in their stride.
#sexwithcars is trending. Interesting development.

— Emily Davis (@EmilyZDavis) October 14, 2014
LIKE US ON FACEBOOK | FOLLOW US ON TWITTER