Armed with stones, smoke bombs and metal chains, the far right descended outside the Ukrainian parliament today, triggering violent clashes with police.
The masked protesters, who were identified by the BBC as Ukrainian nationalists, had demanded that MPs pass a law to recognise a contentious World War II-era Ukrainian partisan group know as both national heroes - and for collaborating with the Nazis.
Thousands of Svoboda nationalist party supporters rallied in the capital in celebration of the Ukrainian Insurgent Army, but violent fights rapidly broke out between demonstrators and police as deputies in parliament repeatedly voted down the proposals.
Later, dramatic images emerged of masked men attacking and throwing smoke grenades at lines of police outside parliament as lawmakers met inside.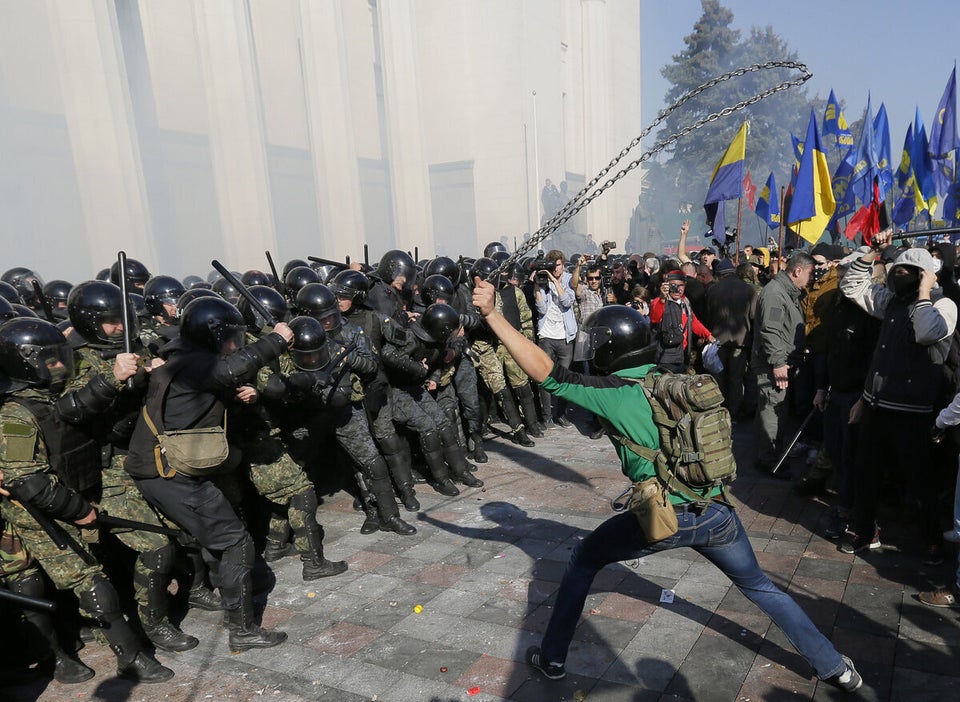 Violent Far Right Clashes Outside Ukraine Parliament
As 36 people were detained by police during the violent scuffles, at least 14 people, including seven civilians and seven servicemen, were killed in fighting between pro-Russian separatists and government forces in eastern Ukraine.
A cease-fire has been in place since early September but violations are reported daily.
Svoboda said its members were not responsible for the unrest in Kiev, which police said was orchestrated by a small group of people at the rally.
The unrest overshadowed the passage of laws the government hopes will contain the galloping corruption that has long hindered Ukraine's sclerotic economy. President Petro Poroshenko urged lawmakers to keep up the fight against corruption, a problem that he equated with terrorism.
One law backed by 278 out of the 303 registered deputies creates an anti-corruption bureau to fight graft. Other approved provisions included laws to stem money-laundering and to increase corporate transparency.
Parliament also approved a new defense minister — former National Guard head Stepan Poltorak — a pressing priority considering the clashes with pro-Russian separatists in its industrial eastern regions.
The Ukrainian Defense Ministry said Tuesday their positions had come under rocket fire more than 30 times in the last 24 hours.
Security spokesman Col. Andrei Lysenko said seven servicemen in the east had been killed over the same time period, six of them by mines.
Much of the fighting in the east has focused on the government-held airport in the main rebel-held city of Donetsk. A rebel commander leading that assault, who identifies himself only by the nom de guerre Givi, said 27 of his fighters have been killed in the last three weeks while fighting for the airport.
Civilians have suffered the brunt of the fighting. Local authorities in Mariupol, a government-controlled city on the Black Sea, said seven people were killed and 17 injured Tuesday by shelling in the nearby village of Sartana.
The city hall said in a statement that the shells were fired by rebels and hit people taking part in a funeral process.
Popular in the Community