The cast of 'Coronation Street' are involved in a pay dispute, as the young stars are being paid far less than the likes of Bill Roache and Michael Le Vell, according to reports.
While old-timers like Bill and Michael are raking in up to £250,000-a-year, a source tells The Sun that newbies including Sair Khan are being paid £40,000.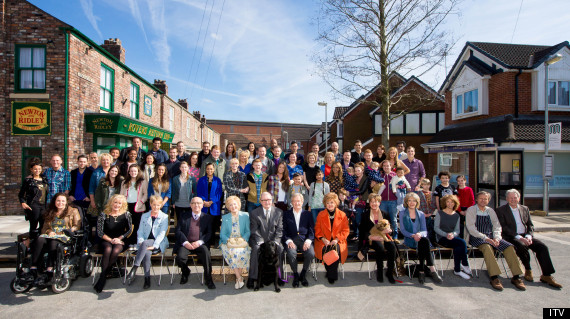 The cast of 'Coronation Street'
"The kids are on a pittance compared with the older stars, and do a lot more episodes," the source explains. "Bosses don't care because they know there's plenty of other young kids eager to join. There is a lot of unhappiness.
"The show also recently introduced a system to dock the wages of people who bring the show into disrepute, causing a lot of ill-feeling."
It is also reported that the stars have been left disgruntled by the fact they have limited ways of increasing their income.
"The new stars are trapped on contracts that mean they will never earn the big money and yet are prevented from boosting their income in different ways," the source continues. "They are allowed to do personal appearances in clubs or shops but can't be the face of a make-up or clothes range."
In recent months, there have been a number of departures and arrivals in 'Corrie', including the return of Fiz's mother, Cilla.
Michael Le Vell and Bill Roache both made their returns after taking extended breaks from the soap.
Earlier this year, Michelle Keegan's character Tina McIntyre was killed off and Peter Barlow is currently standing trial for the crime.
LIKE US ON FACEBOOK | FOLLOW US ON TWITTER