Michael McIntyre shamed an audience member at one of his recent gigs when he stormed off stage after spotting a woman sat in the front row using her mobile phone.
The comedian was appearing in front of a sell-out audience at Darlington's Civic Theatre on Monday evening when he made an abrupt exit from the stage, telling security to 'sort it out' as he went.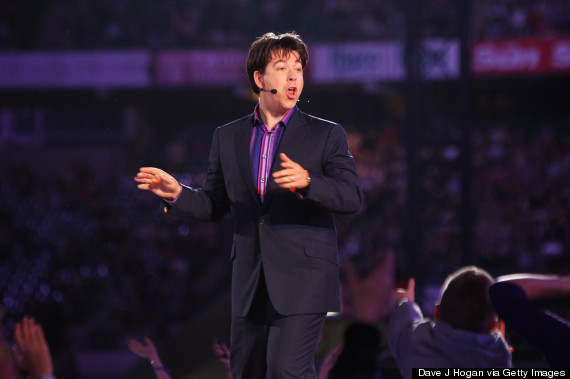 Michael McIntyre
Many fans began chanting for the woman to be removed from the venue but after agreeing to put her mobile phone away, she remained in her seat.
The comic returned to the stage a few minutes later to complete his set, which the unidentified woman watched until the end.
We bet that was a long walk out of the venue.
Many fans took to twitter following the show to voice their support for the comedian and take the opportunity to let the 'idiot' audience member in question know what they thought of her antics.
@McInTweet Great show in Darlington tonight....sorry about the idiot in the front row. You handled her perfectly.

— Nige Crooks (@Nige78) October 13, 2014
@McInTweet just seen you in Darlo (Darlington) you were absolutely fantastic my face cheeks are hurting. Sorry about the idiot front row.

— Su Leigh (@suleigh2010) October 13, 2014
Michael McIntyre very funny in Darlington tonight. Shame about the idiot on the mobile phone in the front row causing him to walk off.

— Peter Barron (@EchoPeterBarron) October 13, 2014
Michael McIntyre walked off stage in Darlington tonight because a woman in the front row kept using her phone. Stay classy Darlo.

— David Wriglesworth (@Wriggy) October 13, 2014
@McInTweet so sorry for the behaviour of individuals in Darlington. We appreciate you😘

— gorbys12 (@samgore4) October 13, 2014
@McInTweet on behalf of all of darlington we apologise for the idiots tonight... We're not all like that sorry Michael McIntyre #wankers

— LITHP (@harry_stokell) October 13, 2014
Although, not everyone was quite so sympathetic towards Michael…
Finally, a way to make him stop http://t.co/YBaZ2p4tkU

— Pete Cashmore (@TweetCashmore) October 15, 2014
"@itvnews: Michael McIntyre storms off stage in Darlington http://t.co/NqIJ9JIeOI pic.twitter.com/fKBNSkAETW" A real comic wouldve ruined her

— Paul Kelly (@PaulK1966) October 14, 2014
Maybe Michael should try a different approach next time, like these fellow comedians...
LIKE US ON FACEBOOK | FOLLOW US ON TWITTER