But now we've had a play ourselves. And this is what we thought.
Even more so than its bigger sister, the iPad Mini 3 is a (well) known quantity.
Fact is, Apple has taken few risks with this year's generation of the smaller iPad. It's good. It's just... dull.
So... what's new? Honestly... not much.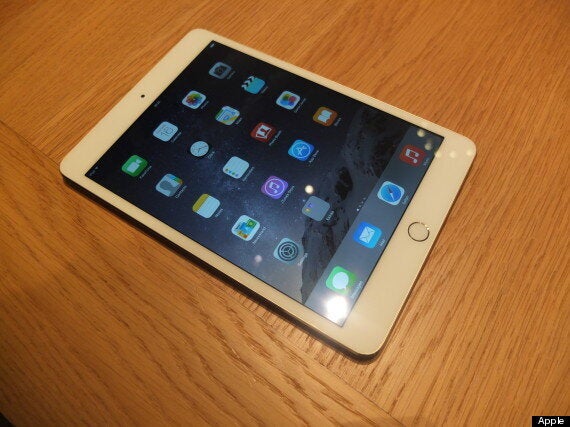 The outward appearance of the iPad Mini is the same as the last generation. Literally, the same. In the context of the iPhone 6 Plus it maybe feels a bit different - like a very, very large phone more than a small tablet - but the reality is it isn't. It is just as thick (think) tall (short) and wide (... not wide) as the iPad Mini 2.
Elsewhere, it's the iPad you know and probably love. It runs iOS 8 with no surprises, has the same range of great work and entertainment apps built in, has a decent, maybe-pointless camera, a great screen and a straightforward profile.
The Mini 3 does add some new features. Well... actually, it adds one in the form of the Touch ID sensor. That is a dependable and useful hardware addition, depending on where and how you use your iPad, but at most it's a nice to have. The Mini 3 also comes in gold - a nice muted shade, the same as on the iPhone.
Unfortunately, everything else that's good about the iPad Air 2, the Mini 3 lacks.
It only has the A7 processor - no A8 or A8X. It has the old camera. It does come in a 128GB configuration, which is something, but you have to pay for it.
And this is the central conflict. Because it's hard to fault the new iPad Mini on its own terms. It's a rock-solid, good tablet - just as good as last year, as a raw package of tech. And it has Touch ID.
Except it isn't as good as last year, really. Because last year's model was the iPad Air, but smaller. No compromises. Nothing missing from the package but a couple of inches of screen. In lacking the Air 2's profile, processor and camera it's back to where we were two years ago - not in objective quality, but in subjective comparison to the best iPad on the market.
In reality, it's going to be hard to recommend the new iPad Mini, which costs significantly more than the old one, when the major feature it adds is a nice, but inessential security option.
Does Apple have the best tablet line-up going into Christmas? Yes. Will it sell tons of them? Yes. Is the iPad Mini the best one they make? Well... last year we said yes. This year we're not so sure.