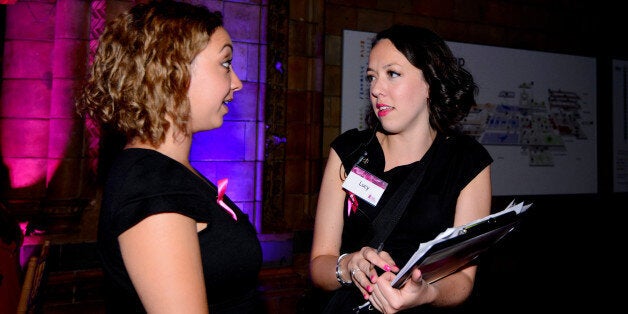 For Breast Cancer Campaign's special events manager Lucy Povey, no two days at work are identical - and each one is packed with excitement.
From food sampling for this month's Pink Ribbon Ball to meetings with committee members, Lucy is 100% focused and passionate about her job and spreading the word about Breast Cancer Campaign and the life-saving research it funds.
With a background that started in wedding planning for a Vancouver-based company, Lucy has helped organise events in London including The Chelsea Flower Show, fashion shows, awards, gala dinners and parties everywhere from Buckingham Palace to St. Paul's Cathedral.
In her first year at Breast Cancer Campaign, Lucy's job as an events manager encapsulates Breast Cancer Campaign's "Look good, do good" mantra: she organises fabulous and stylish parties which are about so much more than having a great time (although that happens, too!).
Her events raise money to help the 50,000 women diagnosed with breast cancer in the UK each year, money which gets scientists and researchers closer to eradicating breast cancer for good.
Tell us a bit about your day-to-day work life.
The thing with working in this type of events is that no two days are ever the same. For example, the other day I began by liaising with the design agency and the printers to get the auction catalogue to print. Then I rushed across town to meet with Pink Ribbon Ball committee members.
After that, I did a menu tasting for the ball and had a lovely tour of the kitchen from the head chef at The Admirable Crichton caterers - for me, the food and beverage is a key part of any event and I'm a stickler for that. It went very well so I can relax. The quality of the food and the service is absolutely key and I'm very excited by the selections that we have and I know we will be able to deliver them on a large scale to 450 people.
I also spend a lot of my day talking with guests and supporters and liaising with potential sponsors.
What are some of the special things happening for the 20th anniversary of the Pink Ribbon Ball?
This year's Pink Ribbon Ball was on October 11 at an exciting new venue: the Natural History Museum in London. It was the first time that we held it there. For me, it was a chance to make the event really different on its 20th anniversay and do something really exciting in this venue.
There was lots of room for the 'wow' factor when it came to entertainment as there was so much height in there - needless to say we had some aerial acts. We also had the world's only all-female magician group and our headline act was the amazing Lisa Stansfield.
This year, we're also launching a Manchester Pink Ribbon Ball off the back of the success of the London event - we thought it would be a good time to roll it out.
We have lots of supporters in Manchester and we do lots of work there so we thought it was a great place for it and it will be taking place on 25 April, 2015 at Manchester Cathedral, with catering by Harvey Nichols. We've set up a new Cheshire-based committee for this event - a fantastic group of women. It's still in early in the planning stages and we're really excited to have something up north as well.
What do you love about working on events like The Pink Ribbon Ball? What's your favourite bit?
This year is a real celebration of how far this event has come and how far breast cancer research has come in the last 20 years. It also shows how far we still have to go - we are looking to raise £300,000 for Breast Cancer Campaign through the Pink Ribbon Ball.
I only joined Breast Cancer Campaign this year so this was my first Pink Ribbon Ball - and for me, it was a really exciting opportunity to bring something new to an event that's so well-established whilst still respecting all of the things that people love about it.
The planning process takes so long and is so detailed and I'm obsessed with detail - you need to be! - so for me, my favourite moment was when the guests came in and took their seats and looked around and took it all in. I love seeing people enjoy themselves and knowing that all of the hard work has been worthwhile.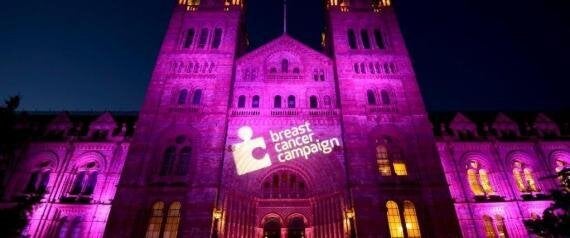 Who's influenced you in your career?
My first-ever events role was as a wedding planner in Vancouver, where I worked for an amazing woman, Milena Santoro. She mentored me and gave me the best possible foundation for how to plan events and she's gone on to do incredible things in her career.
She taught me about keeping your cool and being professional at all times, and also to have humour in your work and I often ask myself in situations: "What would Milena do?"
She helped me on a personal level as a mentor, but in terms of creativity, it's living in London that inspires me. It's one of the best cities in the world and there is so much to take creative inspiration from.
I'm always interested in keeping on top of event trends, and even though I haven't worked in the wedding planning industry in many years, I always go back and look at what's in vogue for weddings. Current trends and fashion are always a real inspiration to me and I've become quite obsessed with Pinterest!
For me, I've worked in lots of different sectors and types of events, and, having come from the corporate world, I genuinely know that raising this money will make a real difference. Ultimately, knowing that is the thing that helps when you're working long hours. It's also a very interesting event portfolio to be working on.
I love working for Breast Cancer Campaign and I really believe in their work - it's not difficult for me to meet with supporters and talk about the work because I am so passionate about it.
Breast cancer is a disease that affects so many people and I have a personal connection to breast cancer which also makes me very happy to be working here.
What qualities do you need for this job?
You need to be organised and a good communicator - those qualities are a given. At Breast Cancer Campaign, I also work alongside a long-standing committee to help put on events like the Pink Ribbon Ball and gaining the trust of all of the people I work with and delivering something that's really important to the supporters and committee members is also key. I feel so lucky that I work with such a brilliant committee of people who trust me - it makes my job so much easier.
What's the best way you recommend for friends and family to get involved with Breast Cancer Campaign and #wearitpink?
What I love about wear it pink (taking place 24 October) is that's it's really accessible to everyone. The Pink Ribbon Ball has sold out and is one of our more high-end events, whereas wear it pink is everyone's chance to support the charity.
Personally, I'm getting involved by hosting a Martinis & Manicures evening with my friends to support it. I think it's about being a bit creative - we live in a culture where we're all asked to support different charities and you can do your part in so many different ways. I thought about what my girlfriends would like and decided a mini-fundraiser at my place would be fun.
Wear it pink is a stylish and fashionable way to get involved with a bit of fun and it's about our campaign motto of "Look good, do good," a theme we're pulling through the Pink Ribbon Ball as well.
On the events side, there are lots of different ways to get involved nationally with Breast Cancer Campaign, from supporting events challenges to community events. Check out our website - there is something for everyone.
What's your favourite thing to wear for wear it pink?
I was just looking in the shops last night for something new to buy! For me, it's all about the accessories: I'll have pink shoes and pink nails, of course! The 24th October will be my first experience with wear it pink and I know everyone will have a great day in the office and will have lots of fun. This is such a great place to work.
Want to get involved? Sign up today to wear it pink (at work, at home or at school) on October 24. For all of the latest info, check out @BCCampaign and #wearitpink.
For all the latest fundraising ideas and fashion tips on how to wear it pink, sign-up and receive your free fundraising pack here.
To donate now: Text HUFF to 70660 to donate £3 to beat breast cancer
Texts cost £3 plus network charge. Breast Cancer Campaign receives 100% of your donation. Obtain bill payer's permission. By using this service, you agree that we may contact you in future. If you'd rather we didn't, text NOCALL to 70004. Customer Care 020 7749 4114. Registered charity no. 299758.