The aftermath of Dean Wickes' vicious attack is continuing to have repercussions for Linda Carter in 'EastEnders'.
MORE 'EASTENDERS':
Linda (Kellie Bright) was sexually assaulted by her nephew Dean (Matt di Angelo) in shocking scenes that aired earlier this month, and in Thursday night's episode viewers will see that she is still struggling to cope, after lashing out at her daughter.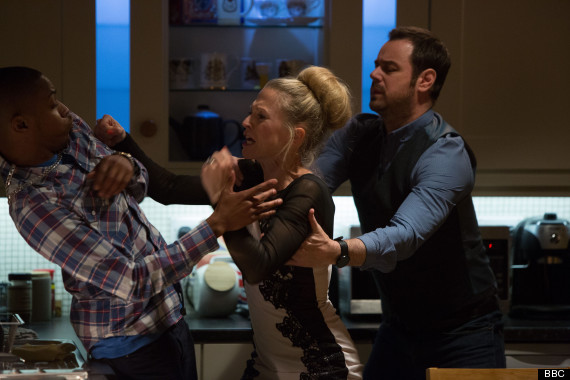 Linda lashes out at Dexter
Nancy and her boyfriend Dexter are shocked at Linda's reaction when she accidentally catches them kissing on the kitchen table, a sight which brings her traumatic ordeal to the forefront of her mind.
Boiling over, Linda is then seen attacking Dexter, angrily warning him to back away from her daughter, which startles everyone, including her husband Mick (Danny Dyer), who arrives to break up the commotion, leaving everybody wondering what's going through Linda's mind.
Linda is yet to share details of her horrific experience with her family, so they are currently at a loss to why she's been so withdrawn while she deals with the attack privately.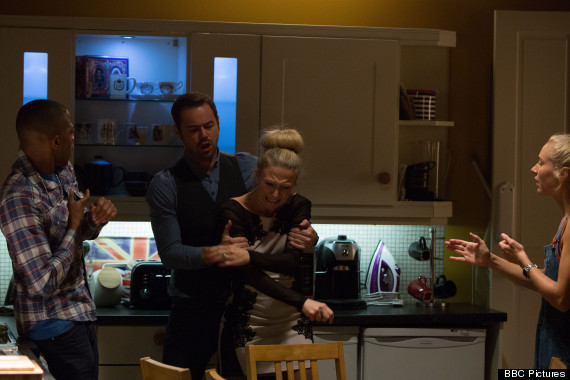 Dexter and Nancy are confused by Linda's strange behaviour
It was previously revealed that Mick would enlist the help of Linda's mum, played by West End legend Maria Friedman, to help him figure out why his wife has become so withdrawn lately
Although the current rape storyline hasn't been without its controversies, Kellie Bright has been praised for her realistic portrayal of Linda as a victim of sexual assault.
Tune into 'EastEnders' on Thursday, 16 October at 7.30pm on BBC One to see how Linda's bust-up with Dexter and Nancy plays out.
LIKE US ON FACEBOOK | FOLLOW US ON TWITTER