But now we've had a play ourselves. This is what we thought.
Let's get this out of the way: the new iPad Air 2 is an iPad. It looks like an iPad, it feels like an iPad, if you asked its friends what it's like, really, underneath it all, you know what they'd say? They'd say "it's an iPad".
Maybe we say this every year, but this is a subtly but definitely better gadget than last year's device...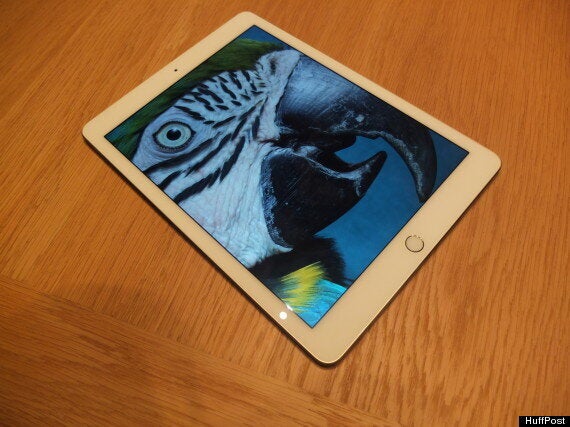 Physically the iPad Air 2 is very similar to the last generation, but it's just 6.1 mm thin. It feels extraordinary in the hand - light, but ridiculously slight. And that's not our imagination - 437g versus 469g is a significant difference. That said, it's only 0.8 mm thinner. That's almost exactly the same thickness as an Oyster card, or any other credit card with the numbers whittled down. We're talking degrees of thin-ness, not thick-ness.
The screen is as good as ever though, and the pictures it displayed which were reportedly takenby an iPad were also fantastic. It is supposedly less reflective as a panel, but it's honestly hard to tell under the direct lights of a post-event hands-on room, Anyway, it looked nice as long as you like parrots. Moving on... We haven't tried out the camera ourselves but we can't wait to stand on the side of the street holding it up like a really cool person.
As for the new A8X processor, it's just impossible to tell at this stage how much better it is than the one in the iPhone 6 Plus, but everything seemed slick and smooth in our brief test. It has three billion transistors, according to Apple. We didn't have time to count them all.
The new iPad Air also benefits from some genuinely decent new features. It has a Touch ID sensor, for instance, which anyone with a current-gen iPhone knows is a brilliant and simple way to open your device and pay for stuff with your fingerprints. It works, it's easy, and it's still oddly futuristic. It has faster WiFi and a built-in SIM card too.
Elsewhere it's familiar territory when it comes to iOS 8, which is already available on older iPads, and the software package which comes with the device, which is comprehensive and excellent across the board, but again familiar.
In fact, at £319 for an iPad Air 1... it might be that the older iPad takes the crown as the best overall value iPad.
Overall our test with the new iPad confirmed what you probably knew as early as yesterday -- this is the best looking, best feeling tablet in the world. It has the best tablet OS and the best apps, costs a bit more than an Android (sort of) equivalent but is worth every penny.
Which is to say... this is an iPad.