Successful women rarely have one string to their bow, and Mary Ann O'Brien is no different.
Not only is she the founder of Lily O'Brien's. But she's also co-founder of the Jack and Jill foundation, a charity offering support to the families of very sick children, as well as senator for the Irish government.
All of this is a huge accomplishment, but, when placed in context of Mary Ann's home life, it becomes is all the more remarkable. Her son Jack almost died from cot death and was left with brain damage. He eventually passed away some time later, and his death is something that fuels and drives her charity work.
So how does she juggle business, politics, motherhood and charity work on a daily basis?
We chat to the chocolate-making mogul to find out...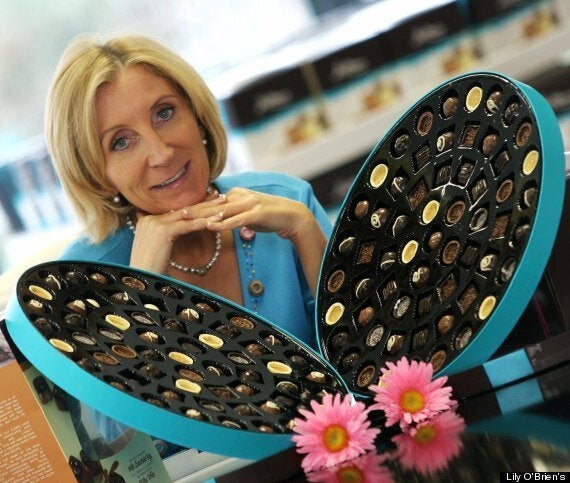 How did you get started with your business?
I was on a whale-watching holiday in Cape Town, when I met the hotel owner's daughter, who spent her time making delicious chocolates for local restaurants.
The next ten days were spent with her in the hotel kitchen, up to my elbows in chocolate - I never even saw a whale.
I returned to Ireland with a bag full of moulds, piping bags and books... and the business was born.
What has been your biggest challenge in setting up Lily O'Brien's?
It was slow to get going at first as I had no knowledge of business or the chocolate industry. I'd come from a racehorse background and didn't have a degree.
So, I travelled a lot and studied various courses: from research and development to packaging and machinery. It was a challenging because there was so much to be done.
At this stage I did most of the work myself, but as the business evolved I was very fortunate in gaining the expertise of the people that I hired. They've helped me to build it.
What exciting new chocolates are you working on?
This afternoon we've been working with mixing beetroot, fruit juice powders - raspberry and blackcurrant - with dark chocolate.
We've also been playing around with healthy stuff like toasted quinoa seeds, agave syrup and chia seeds. We never stop eating!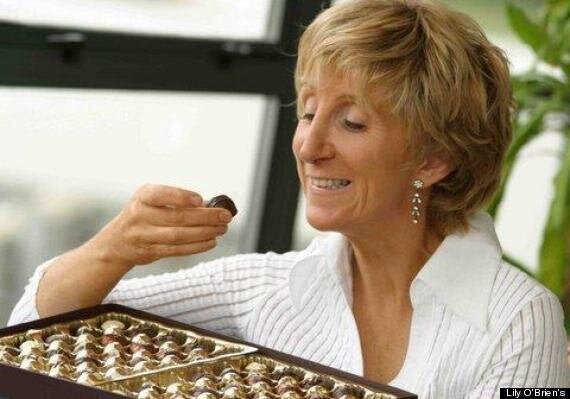 When you're not eating chocolate you also work as a senator. What exactly does this entail?
I sit on the agricultural committee, which deals with all things regarding: food, drink, farming, the environment around farming and the business of agriculture.
We also discuss sustainability targets, climate change targets and targets for the food industry over the next 15 years.
I never really had any political ambitions. But working in this role really fits my love of the food industry.
What obstacles have you faced during your time working in two very male-dominated worlds?
I've always struggled with being a mum and a businesswoman, because I'm always torn between the two.
Men are lucky in that respect. Fathers are great but I don't think they have that bond that drives us mothers mad.
What's been the biggest change between the start of your career and now?
Technology has revolutionised the way we work.
You can process information incredibly quickly. For example if I want our sales director to call up information from the past four weeks, he can send it over to me in a flash.
On the other hand, if you're not careful it can be overbearing. I'm dreading the end of the day because I'll have 70-80 emails that need to be dealt with.
I'm addicted. We all are. If we're not careful it's going to drive us all over the edge.
How do you let off steam and relax?
I became very stressed a few years ago when the economic crisis threatened the business. I thought we were going to lose everything.
I was under a lot of pressure so I took two weeks off and did a 200-hour yoga and meditation study course in the States, which I still practice a bit of now.
To stay sane I enjoy growing my own vegetables, walking the dogs and riding our ponies and horses.
Oh, and you can't beat good friends and the odd glass of wine.
Describe a day in your life...
I get up between 6.15 and 6.30am. Then I'll normally go and feed the pony and about 27 hens. Oh and I'll talk to my dogs - I have five of them.
Then I'll head out of the door at around 8 o'clock. I could be going to the senate or I could be coming here [Lily O'Brien's]. My week is often split exactly in half between the two.
This evening I'll go home and make homemade, organic hamburgers with halloumi, quinoa and cranberries.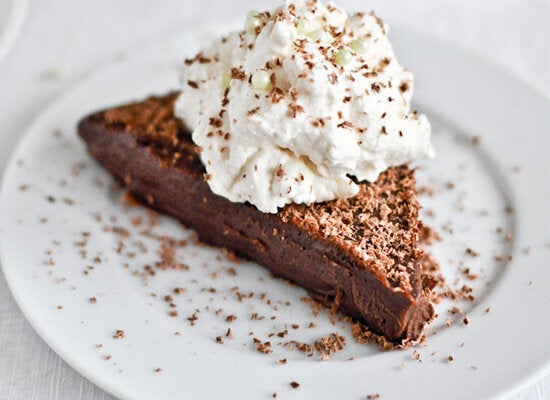 Chocolate Cake Recipes
Finally, you set up the Jack and Jill foundation in 1997, can you tell us a bit about why the cause is close to your heart? And why it is important for you to give back?
We had a beautiful little boy called Jack in 1996 who had a near-miss cot death on his first night in hospital. He literally choked on his own mucus. He had to be resuscitated but he couldn't see, hear or swallow.
He spent three months in intensive care with epileptic fits and seizures.
The paediatrician met with us one day and said: "I don't think you'll cope with this. He is going to be very difficult to look after at home, he will ruin your other children's lives and he will also ruin your marriage because he's going to take 20 hours a day to look after.
"The only thing you can do is get him checked into the children's hospital and leave him there."
But you know, he was talking about my child.
We got home and the paediatrician was right. There were four months of no sleep and it took literally 20 hours a day to tube feed this child. It was just a disaster. A mess.
So, we started a very simple charity at our kitchen table off the back of that. Our friends had a fundraiser and raised five grand for us and said: "Take this, get some help".
After this things changed. I got back to work at Lily O'Brien's, my husband got back to work, an air of sanity returned to us and laughter filled the house again.
Jack lived for 22 months.
We learned a lot from our experiences and knew that there was still nothing in the country to help or assist other parents with looking after such children. We had to help other families, too - and so the Jack and Jill Foundation was created.
We've now looked after 1,800 families and we've raised €54 million since 1996.
From your experience of starting a business from scratch, what advice would you offer to other women starting up?
1) First of all, take your time. Get as much advice and mentorship from people that have been there, done that, got the t-shirt and made all of the mistakes.
2) Make sure that you have some consumer insight before you start and that there really is a gap in the market for your product.
3) Be prepared for some knocks and be prepared to really garner your resilience.
4) Make sure you have a passion. Be willing to work all hours that God sends to begin with, because it does take that.