The most unexpected thing to happen in Saturday's X Factor was, without doubt, the abuse directed at Cheryl that sparked the #Cherylkermit hashtag.
Y'see, she was wearing this rather interesting dress...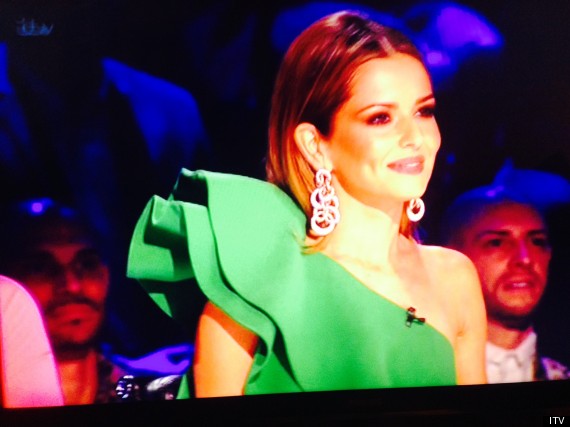 Which had some drawing comparisons to this chap.
#CherylKermit is now trending worldwide on Twitter. pic.twitter.com/UMwx8evx83

— Cool FM (@officialcoolfm) October 18, 2014
Cheryl didnt like that #cherylkermit

— Mike Eastham (@Mikeyboi9) October 18, 2014
#cherylkermit haha too funny. Altho she's the most beautiful kermit ever @CherylOfficial

— katy harvey (@katealoon) October 18, 2014
Which sparked a whole load of memes.
Omfg I'm actually so done kermit Cheryl 😂😂 #cherylkermit I can't breathe 😂😂🐸 pic.twitter.com/4Fhjjh4Xa5

— #IDONTCARE (@soldier4ever2) October 18, 2014
Ahahaha lolin this is my fave #cherylkermitpic.twitter.com/yUnWjSZrtV

— Sophie Murray (@SophieMurray3) October 18, 2014
Just a regular Geordie frog "Here's Cheryl" #cherylkermit#theshiningquotepic.twitter.com/nXT9iq6eSk

— Adam Thorne (@AddamThorne) October 18, 2014
And it had it's benefits.
#cherylkermit love it! And it is easier to remember than her new married name

— Jo Conway (@duchessofhowden) October 18, 2014
#cherylkermit it's all coming back on Cheryl this week lol pic.twitter.com/ofe1mQuRwt

— JIMMY (@UThatguy) October 18, 2014
OMG can't believe #cherylkermit is trending. That's fricking hilarious. #xfactor

— The Torch EG (@TheTorchSL) October 18, 2014
A roundup of the best we found on the #cherylkermit hashtag! @CherylOfficial@TheXFactor@SimonCowellpic.twitter.com/QtrJ8GUzgJ

— Simon Cowell Online (@CowellOnline) October 18, 2014
Here's Cheryl Kermit posing for a photoshoot.

#cherylkermit#xfactorpic.twitter.com/TumEQ5MRIk

— Paul Healy (@Paul_Healy) October 18, 2014
Yes Shane, yes it does...
If @CherylOfficial is #cherylkermit does that make @SimonCowell & Louis the grumpy old men? @TheXFactor@radiolearypic.twitter.com/3pDwh7JZ8E

— Shane Collins (@iamshanecollins) October 18, 2014
And this is just incredible.
#cherylkermit omg😂dont you just love it?💖 pic.twitter.com/xF2dWPOQsX

— kayleigh (@Kayleigh__1998) October 18, 2014
Oh and Mel B got a bit of stick too.
Actually nable 😂😂😂 nearly died when I saw this 😂😂 #Cherylkermit#Melmspiggypic.twitter.com/GWPhqevJVo

— Ella McCarthy (@EllaaaaBella18) October 18, 2014
Perfect picture #cherylkermitpic.twitter.com/IjFNVjA87f

— sarah barron (@sarahbarron95) October 18, 2014
But some simply disagreed.
Personally think this is more accurate😂😂😂 #cherylkermitpic.twitter.com/H9wFKxyGtO

— Hollie // Please Ash (@namelesshol) October 18, 2014
LIKE US ON FACEBOOK | FOLLOW US ON TWITTER