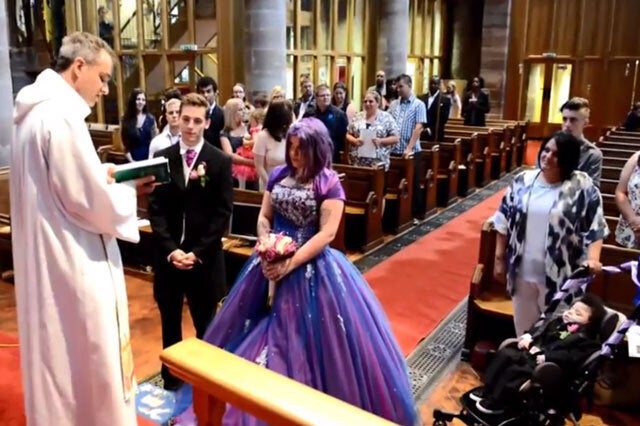 A mum held a mock wedding so her dying son could walk her down the aisle and see her get married.
Two-year-old D'shawn Marshall suffers from epilepsy, brain damage, microcephaly, delayed development and partial sight.
He can't walk, talk, hold his head up or even grasp toys, and has to be fed through a tube.
Doctors believe he has as little as six months to live, so his loving mum Carla, 19, from Wolverhampton, has organised a Bucket List of experiences for him over the next few months, including trips to theme parks and tourist centres like the Sea Life Centre and the Severn Valley Railway.
The most poignant of those, though, was when she decided she wanted D'shawn to see her 'get married' and to give her away at a mock wedding to boyfriend Kyle Matthews, 22.
Friends, family and donors worked quickly to make the ceremony a reality, and Carla and Kyle were blessed in a marriage re-enactment at St Michael and All Angels Church in Penkridge, West Midlands.
Story continues below video
Carla, from Wolverhampton, said: "I was so worried that he wouldn't make it as the week before he had been really poorly and in hospital, so I just prayed he didn't have a seizure.
"I know it wasn't real, but it was the only thing I wanted for us to experience together in the little time we have left.
"The highlight of my day was the first dance, which I had with D'Shawn. He managed to hold his head up and looked straight into my eyes, it was pure love.
"There were tears from not just me, but from everyone."
She added: "He didn't stop smiling for the whole day. D'shawn can't communicate well but I know how much he enjoyed it, and two days after the wedding he told me he loved me for the very first time.
"It's been absolutely amazing and emotional at the same time. I would just like to say a big thank you to everyone for their donations and support.
"I can't thank you all enough for making this such a special day for us all."
Carla was helped by DADs charity, which helps fathers who care for children with special needs.