The future could be much darker.
A new report warns that commercial drones could be used by everyone from terrorists to burglars, train robbers and poachers to terrorise the UK within 20 years.
Shopping centres, sporting events and public rallies face being exposed to chemical or biological attacks by terror groups exploiting unmanned aircraft, research led by a former director of GCHQ has found.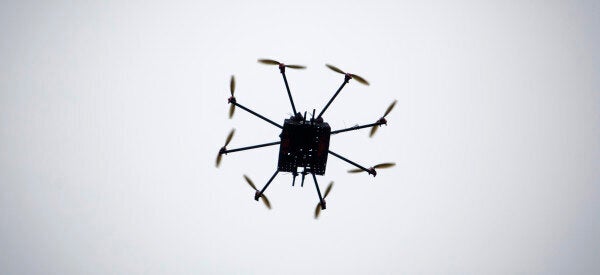 Terrorists could turn drones into flying bombs by hooking them up to improvised explosive devices, according to the University of Birmingham Policy Commission Report.
Drones are the "ideal lookouts for burglars, train robbers and poachers" and mean traditional ways of securing buildings can be bypassed, it said. Lightweight commercial RPAs are also likely to become the "weapon of choice" for paparazzi in search of intimate photographs of celebrities.
Police in Merseyside; Staffordshire, Essex, Wiltshire and the West Midlands have acquired or used drones for surveillance and guidelines must be looked at governing how and when they can be used, it added.
The research, led Sir David Omand, a former director at the Government's listening post, found greater civil and military use of the unmanned aircraft is inevitable and could have "significant benefits" for the UK's security and economy. But it calls for the Government to be open and transparent about the use of the controversial aircraft to increase understanding and acceptance of the "legal and ethical soundness" of using drones.
It comes after a suspected drone pilot was arrested on suspicion of breaching the air navigation order after a device was flown over a packed football stadium.
The 41-year-old man was held in the car park of an Asda supermarket near Manchester City's Etihad Stadium after reports of a drone flying over a stand during Saturday's match against Tottenham Hotspur.
The commission calls for "urgent" measures to safeguard British airspace and the privacy of citizens to cope with civil and commercial use, which is expected to be more widespread by 2035.
"The security threat posed by individuals misusing RPA is a serious one, whether for criminal or terrorist purposes. While the hazards presented by inadvertent or accidental misuse of RPA, or the consequences of their malfunctioning are becoming better understood, more thought needs to be given to their employment for malign purposes in the domestic environment."

"Vulnerable targets might be hardened to withstand attack from outside, but it is entirely possible that in a public space like a shopping centre or sporting stadium, an attack could be launched from within.

"Crowds at sporting events or rallies could be vulnerable in a similar way if a future terrorist group were to look for means of dispersing chemical or biological agents. While such a scenario has so far not posed a real danger to UK citizens, as noted below, it is a threat that the UK authorities took seriously during the 2012 Olympics."
The increased capacity of military, recreational and commercial drones raises "significant safety, security, and privacy concerns", the report added.
Drones under 20kg can be used within line of sight of the operator and with permission of the CAA but enforcing breaches is likely to become a major policy issue, it adds.
Small commercial aircraft, including for taking photographs, are already "clearly being flown", often in breach of the rules, the commission found. Commission chairman Sir David Omand, the first UK Security and Intelligence coordinator, said: "For too long drone technology has carried a burden of ethical suspicion given its controversial use for counter-terrorist strikes by the US.
"The recent decision to deploy RAF Reaper to Iraq is a welcome sign in line with our findings of the growing acceptance of RPA technology as an essential component of modern military capability - provided it is used strictly in accordance with international law, in the same way as for other UK weapons systems.

"RPA add precision targeting capabilities and long loiter times that can minimise civilian losses and protect friendly troops. We need not fear that their use by the UK Armed Forces represents a shift in the ethical framework of modern warfare. RPA will also have an important role in future in civil security and commercial use.

"This commission has highlighted the need for more work on the policies for such applications, and we hope that our findings will help clarify the issues that will need more attention, as well as providing a vision for how the UK can exploit this innovative technology."
Popular in the Community