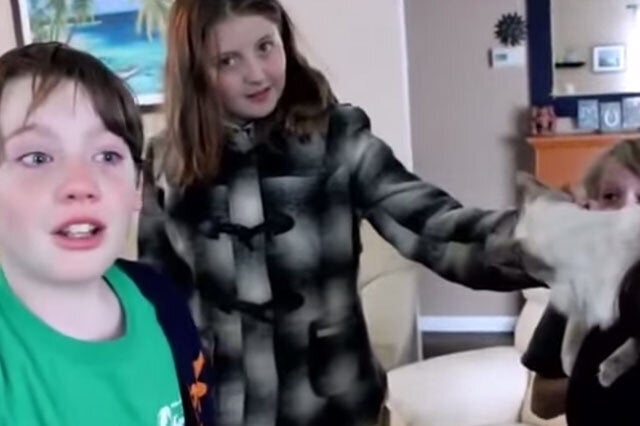 When a beloved pet goes missing, it's heartbreaking for the whole family – but especially the children.
But take a look at this YouTube video to see what happens when they're found! Oh, joy unconfined!
These kids wept like waterfalls when they saw their family's cat Madison again for the first time since she went missing two months ago.
In the video, the children's mum, Sheryl, tells two boys and a girl sitting on the settee that she has a surprise for them.
After they cover their faces with pillows, she then says: "OK, you can look." And the kids go bonkers as they see their long-lost feline friend being held by another girl.
"I knew it! I knew it!" one of the boys yells.
Then mum Sheryl explains: "She was down by the Shell gas station. I found her today. What do you think, Shane?"
To which Shane bursts into tears before blubbing: "I'm so happy."
Story continues after video
Sheryl told Rumble, where the clip has been viewed more than 200,000 times: "Madison is our 13+ year old one eyed cat. The boys 11 and 9 have known her all their lives. She is super sweet and love spending her spare time hanging out on people's shoulders.
"When we got her she was so tiny we had to feed her with a bottle and take her with us if we were going to be gone for more than three hours.
"Around two months ago she got out, we guessed our other cat that knows how to open the patio screen assisted Maddie.
"The day I posted the video, was the day I found her. I leave early to get the boys from school and as I drove and was about 1/2 mile away form our house when I noticed a cat walking behind some kids.
"At first I thought 'wow, that looks like Maddie' and as I glanced again I noticed her fall to the ground and roll trying to get the kids to pet her. This was a trademark Maddie move! I zipped the car around and ran to her. IT WAS HER!
"Excited, I called my daughter ( who is 18) to tell her the good news. She met me at the door with tears in her eyes. I told her I will be back with the boys and I wanted to surprise them and to wait with Maddie in her room. And the video is them seeing her for the first time in months."