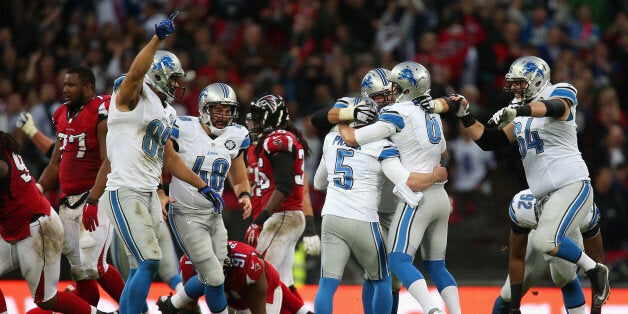 As they often say in football, it's a game of two halves. The Atlanta Falcons proved the truism fits for American football too, as they wasted a dominant first half to lose 22-21 on a last-second field goal to the Detroit Lions at Wembley on Sunday.
Falcons coach Mike Smith dismissed the idea that complacency set in his team who, after utterly steamrolling their opponents in the first half, leading 21-0, collapsed late to fall to 2-6 on the year.
Smith, looking demoralised in his post-game press conference, defended his players' physical and emotional strength, instead blaming poor execution: "You need to come out and start fast in the second half, and we did not on both sides of the ball."
'Toughness' is a key value for Smith's Falcons - repeated through their appearance on HBO's preseason documentary series Hard Knocks and through the season itself - but Atlanta failed to prove they had much at all. After hanging 211 yards and three touchdowns on Detroit in the first half, they mustered only 80 yards in the second half and were shut out by a revitalised and rallied Lions team, who scored 22 straight points, including a field goal as time expired from Matt Prater, which pushed their record up to 6-2.
This disappointing loss means the Falcons, despite playing in a woeful NFC South division, have had their playoff hopes all but extinguished. After a promising 2-1 start, they have lost five straight games. Veteran receiver Roddy White refused to give up on the season, telling reporters: "We're in a position right now where our division really isn't that strong, and if we can just get something going and get one win and just continue to just build off of that."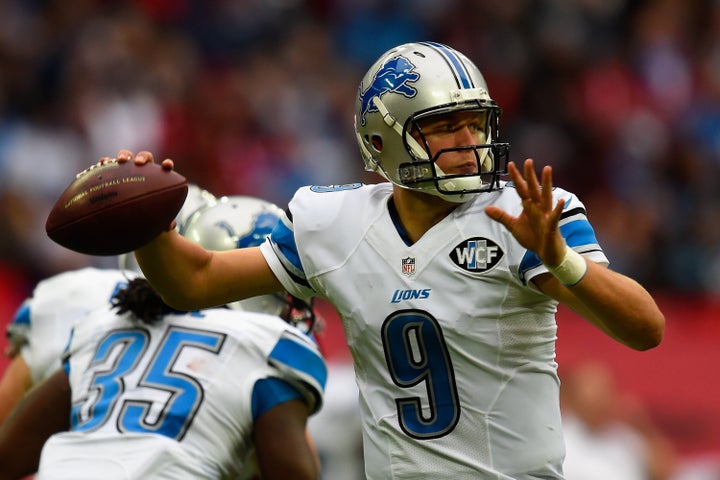 Lions quarterback Matthews Stafford (9), lead his team to a last-gasp win
"You can't make the mistakes we made, they're gonna come back and haunt you", Smith continued. The team's biggest mistake blew the game wide open in the second half, as a busted coverage lead to a 59-yard Golden Tate touchdown on 3rd and 25 midway through the third quarter. Lions quarterback Matthew Stafford escaped pressure and zipped a long, hopeful pass to Tate, who was left unmarked by Falcons safety Kemal Ishmael for a long score.
Stafford, who was inaccurate and out-of-tune in the first half and completed only nine passes for 85 yards, was a new man after half-time, connecting on 15 of 27 attempts for 240 yards and two scores. His pièce de résistance was the game's final drive, the team backed up on their own seven-yard line and 1:38 on the clock, needing a field goal to win.
The 26-year-old former first overall pick repeated his late-game heroics from last week's dramatic win over the New Orleans Saints, completing three of four passes for all of the drive's 62 yards, valiantly leading the team downfield with seconds to spare before Prater's climactic kick.
The Falcons defense, battered throughout the second half, were powerless to stop the Lions offense after the break. After holding a lacklustre Lions offense scoreless before the break, the unit reverted to its below-average form, failing to generate pressure and regularly leaving receivers open in space.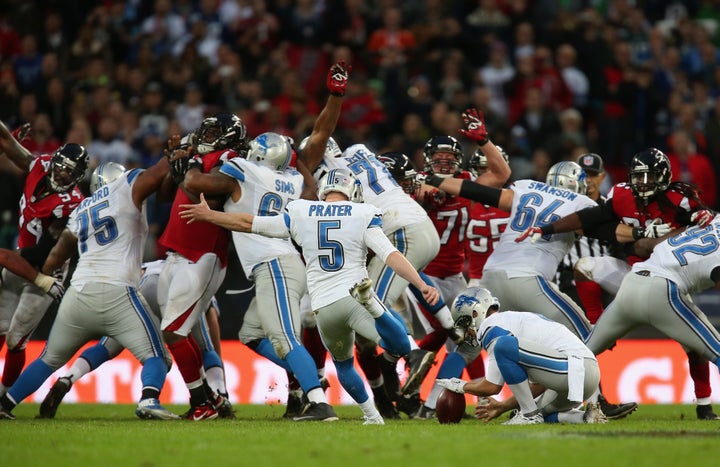 Kicker Matt Prater (5) puts the Lions ahead as time expires at Wembley
Talent won out in the end. The Falcons simply did not have the quality to overpower a sluggish Lions team who were missing their top receiver, the mercurial Calvin Johnson, starting running back Reggie Bush, and their three top tight ends.
The Lions also lost defensive tackle Nick Fairley early in the game with a right knee injury, yet the Falcons could not exploit the defensive line's newfound to run out the clock in the second half. With the game in its final throes in the final four minutes, Atlanta was presented with an easy chance to run out the clock but a sequence of penalties and a vital drop from star wideout Julio Jones meant the Lions were able to get the ball one final, fateful time.
"We put into position to win," second-year cornerback Desmond Trufant after the game, lamenting that team "just need to learn to play with leads".
One wonders how many more leads this team will have the opportunity to protect, as this long season wears on for a team lacking in talent and, now, a playoff berth to play for.