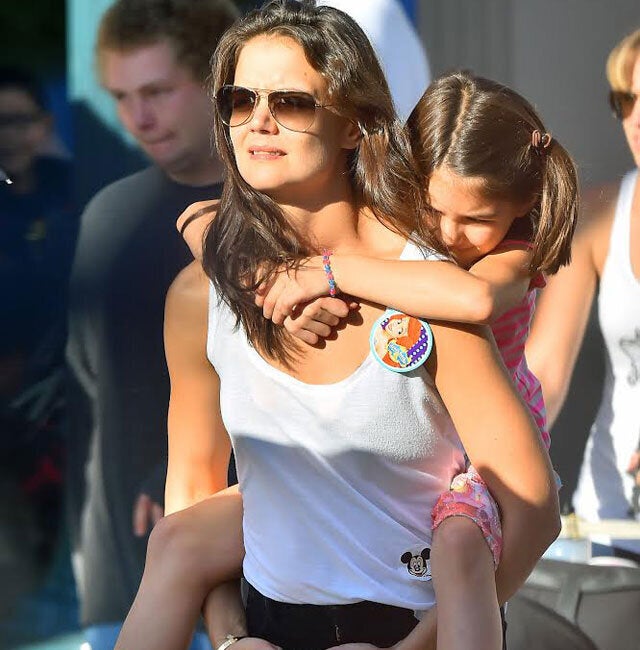 Katie Holmes gave her eight-year-old daughter Suri Cruise a piggy-back ride during a fun-filled day out on Saturday (October 25).
Actress Katie, 35, gave Suri a lift as they wandered around the vast 160-acre Disneyland in California on Saturday.
We've all been there – usually when our kids complain they're 'tooooooo tired to walk' (but never too exhausted to run to the ice cream van) while out about about!
Katie was dressed casually in skinny jeans and a striped top, which she took off to reveal a white vest top, adorned with Disney badges.
Suri, meanwhile, wore a pink outfit and had Minnie Mouse ears on her head.
Last week, Tom Cruise's daughter Suri looked bow-tiful as she was seen wearing the latest must-have hair accessory for girls while out shopping with her mum.
Hollywood's most stylish celebrity child was snapped wearing a Pixie Bow – a stylish hair grip developed by PR guru Roxy Jacenko, whose three-year-old daughter Pixie Curtis has become an Instagram starfor plugging products and offering style tips.
Katie recently spoke about her love for her daughter in an interview with Elle magazine.
The former Dawson's Creek star said: "The number one thing is making sure my child feels loved and good about herself.
"And that what she does and who she is, is special and important. "My mom always said, 'No one loves you like your mother.'"