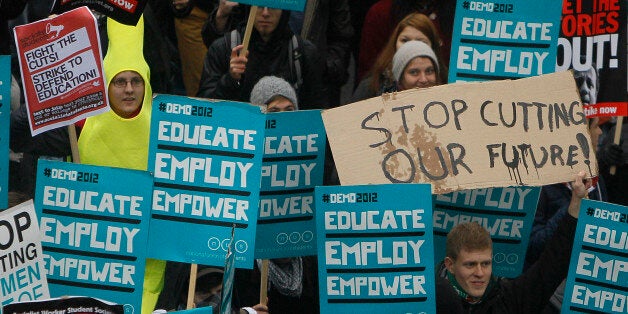 Students across England have started a week of protests in a call to the government to abolish tuition fees.
The protests will take place this week on campuses around the country, leading up to a larger national protest ahead of the general election in May 2015.
Fiona Edwards, an organiser of the Student Assembly Against Austerity, told The Guardian: "This is the beginning of a whole series of action between now and the general election to raise the demands of the student movement and put politicians under pressure to support us."
Protests will be held on the campuses of many universities around the country, including the University of East Anglia (UEA), where speakers from the National Union of Students (NUS) will be present, which recently called on MPs to abolish tuition fees, amongst other education reforms, in its 'New Deal for the Next Generation' manifesto.
These protests hope to abolish the £9,000 cap put on tuition fees following the last general election in 2010, and the main demonstration will march through London on 19 November.
Speaking about the demonstrations, Aaron Kiely, another of the Student Assembly Against Austerity organisers, said: "We are going to be active both on our campuses and outside MPs' offices in order to build a movement that cannot be ignored again. Our message to all politicians and political parties is clear: we want an end to austerity, student debt and tuition fees."
It's predicted that around 10,000 students will head to the march in London, showing that more and more students are now getting actively involved in political action, following the 2010 election.
President of the NUS, Toni Pearce, added: "This is the year when [students are] going to make a difference...politicians would be stupid to ignore them."
"It's not just about this election, it's about setting the precedent for the future that you can't shut young people out of politics."
Popular in the Community