Halloween style sausage rolls fresh out of the oven make great tea time treats for hungry witches and ghouls after a spot of trick or treating.

It's a very simple matter of wrapping sausages in ready-made pastry bandages before baking them in the oven - so the kids can definitely help you make them.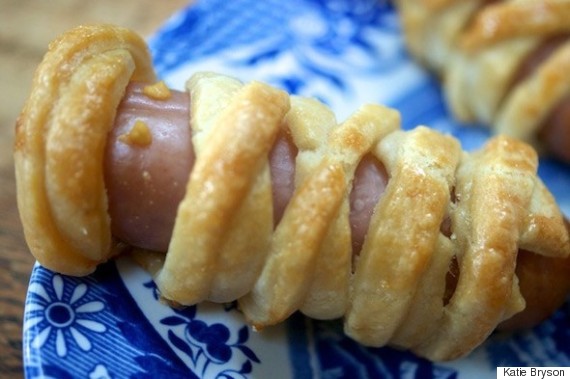 Serve them up on a platter with the deliciously tangy and sweet honey mustard dip on the side and watch them disappear very quickly indeed!

If you like the look of these, check out our other Halloween recipes, like creepy-crawly cupcakes.


Sausage roll mummies with creamy honey mustard dip

Makes 8


For the sausage mummies

8 pork sausages

1 sheet ready rolled shortcrust pastry

1 beaten egg, to glaze

2 tsp mustard powder, for the faces

For the honey mustard dip

4 heaped tsp half fat creme fraiche

2 tsp runny honey

2 tsp mustard - grain or dijon or a mix of both



1. Preheat oven to 190c/gas mark 5.
Unroll a sheet of pastry and cut into fine strips about 1cm wide to form your bandages.

2. Wrap a pastry bandage around each sausage in one direction, and then repeat with another bandage in the other direction. Just use as many strips as you need to cover each sausage.




3. Leave a space for a face and then place on a baking sheet lined with greaseproof paper, brush with beaten egg and bake in the oven for 20 minutes until the sausages are cooked through and the pastry golden.

4. While they're cooling down whip up your dip by mixing all three ingredients in a small bowl - tasting to check the balance of flavour suits you and adjust the amounts of honey or mustard depending on how sweet/fiery your kids like it. Transfer the dips to a ramekin or small dish.

5. Put the sausage roll mummies on a platter then make your faces. Mix the mustard powder with equal amounts of water to form a paste and then spoon it into a disposable piping bag, snip a tiny hole at the end and pipe a pair of eyes onto each mummy.

6. Add your pot of dip to the platter and serve.

Tip: You can also use puff pastry for this recipe, the bandages will just be less defined