These spooky treats are fantastic to make with kids as they are basically a construction and decorating job for Halloween.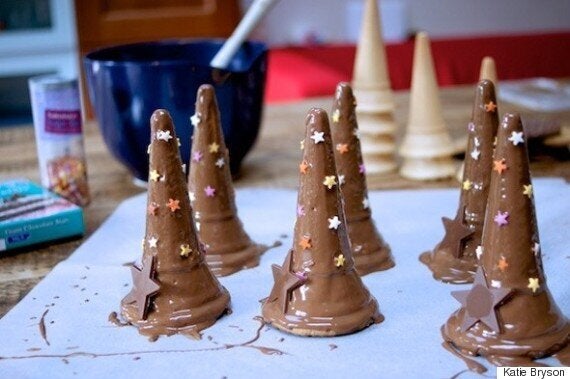 It is incredibly messy though so put little chefs in old clothes and aprons before you melt the chocolate!
A plate of these will look brilliant as part of a Halloween party spread, or alternatively wrap them up in little gift bags and give them to any trick or treaters who might darken your door...
No-bake chocolate witch hats
200g milk cooking chocolate
selection of sprinkles to decorate
1. Line a baking sheet with greaseproof paper. Lay out the digestive biscuits, chocolate side down, leaving plenty of space in between. Pop an ice cream cone facing down on top of each biscuit.
2. Break the chocolate into small pieces and place in a microwavable bowl and heat on full power for a minute. Take out, stir and then put back in for 30 second bursts, stirring at the end of each spell in the microwave until the chocolate has completely melted.
3. Allow it to cool a little and then dip an ice cream cone into the chocolate, turning until fully coated (have a spoon on hand to help this process along) then place back on top of its waiting biscuit allowing the chocolate to run over the edges to help it stick down. If there's not enough chocolate running off, spoon a bit extra around the bottom.
4. Repeat with the remaining cones and then decorate. Make sure the chocolate has finished running down the side of the cones or your decorations might make a bid for freedom.
5. Pop your chocolatey witch hats in the fridge to set.
When you're ready to serve them, carefully remove each hat from the paper and pop onto a plate. You can trim them if you want them to look perfectly neat but I left mine with rustic splodgy edges.
Warning: Eating them is messy too so be prepared for chocolatey faces and hands.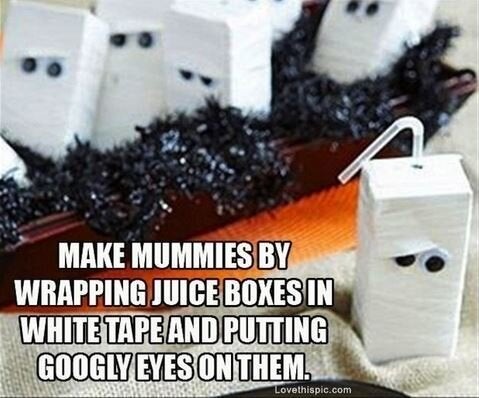 18 Halloween Hacks To Make Decorating Easy