The Samsung Level Over headphones are available now for £299.99 from Samsung and Amazon.
- Noise Canceling
- Wireless with Bluetooth aptX
- Touch-sensitive control
- 15 hours playback
- NFC connectivity
"The Samsung Level-Over headphone uses a 50mm driver unit and high-quality neodymium magnets to reproduce deep, strong, realistic sound. Also, Samsung's Sound Alive equaliser enables the user to customise sound effects for streaming services and all other media sources."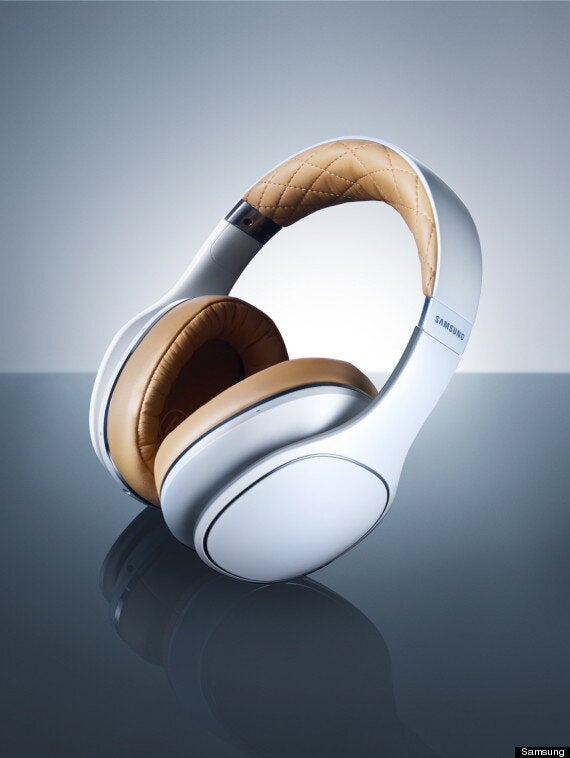 Lets get one thing out of the way right now. Samsung's Level Over headphones look a little ridiculous. The white model in particular looks like its been built from the spare parts of a private jet interior, right down to the quilted leather seats.
They're big as well, and heavy, so don't go buying them if you want to keep your hair as vertical as it was when you first left the house.
Frankly, we're almost inclined to say that they should never be worn in public because we honestly think they scream 'steal me'. That's a compliment to Samsung's eye for exuberant-looking design, from a certain point of view, but a big old negative if you ever want to keep hold of them.
Despite these glaring negative points we've developed a pretty big soft spot for the Level Overs because of one simple factor; they sound great. They really do. In a quick litmus test we passed them around the office and there were impressed exclamations a plenty (despite the raised eyebrow at their design).
Impressed they should be, because the detail and subtlety of the sound is excellent. Samsung's used massive 50mm drivers which mean that their range is comparable with some of the best headphones around.
Everything sounds precisely separated, almost razor sharp. It can feel as though heavier songs are sounding almost too delicate but keep listening and you'll appreciate new aspects of a song that you hadn't previously noted. The bass itself is a particular achievement; sounding appropriately distant but impactful. It's never overwhelming but still manages to put a smile on your face.
That's not easy to do, so often headphones promise 'serious bass' but end up drowning the rest of the song in an aural fog.
On top of this audible prowess Samsung's made these headphones wireless, using Bluetooth with aptX to make sure there's no loss of quality.
As such you'll get 15 hours of playback from a 2.5 hour charge. We're happy to report that both of these figures seem accurate.
To sweeten the deal the Level Over's right ear cup is actually a touch sensitive surface allowing you to play/pause, skip tracks and access S-Voice (if you have a Samsung phone) through a flurry of gestures.
It works perfectly fine and don't worry about looking like an idiot because you won't be wearing them in public anyway,... will you?
Now for the bad news, the cost. Samsung's flagship headphones will set you back £299.99. That's a big chunk of money that's clearly designed to snap at the heels of Beats.
Are they worth that huge cost? Well it depends; if you love the design (the black pair are far more subtle) and have a Samsung smartphone then these are probably the best choice. They sound fantastic and will make nice with all your gadgets.
If on the other hand you don't have a Samsung phone then it boils down to a matter of opinion and honestly, we can see the Level Over's seriously winning some fans. At this price, that's no mean feat.
Related