'Call of Duty: Advanced Warfare'is on sale now in the UK -- and playable, if you have the right version.
And at first glance, the array of options for which version to buy can seem a little overwhelming especially considering that it's available on Xbox 360, Xbox One, PS3, PS4 and PC.
With the Day Zero edition now live for those that can't wait, the game actually has a general UK release date of 4 November.
Well luckily we're on hand to cut through the clutter with a suitably big knife of cynicism so ultimately, you can buy the right one that gets you the most amount of stuff that you'd actually want to use.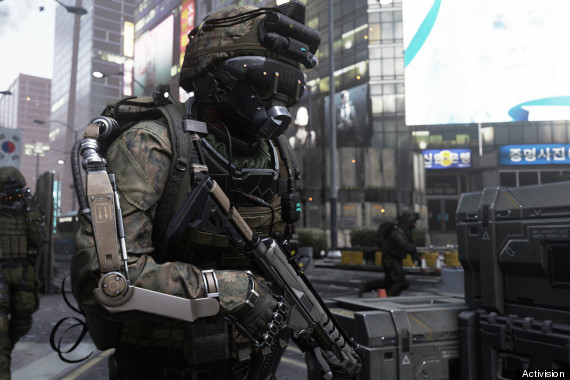 All of these versions are available on all formats.
Call of Duty: Advanced Warfare Day Zero Edition - £40
This is quite simply for those who can't wait. Day Zero lets you walk into a Game store, or order online and start playing today. As well as this privilege you'll also be treated to three bonus weapons and a brass-coloured exo-skeleton.
Call of Duty: Advanced Warfare Urban Ops - £59.99
This is for those that like freebies. Urban Ops is essentially the normal game but comes with a branded wristband, wallet and key clips.
Call of Duty Advanced Warfare Atlas Limited Edition - £77.90
Atlas Limited Edition is essentially the classic special edition. It comes with a huge range of extras including weapons, maps and physical goodies:
ATLAS GORGE BONUS MULTIPLAYER MAP
TWO (2) WEAPONS
THE BAL-27 AE ASSAULT RIFLE
THE ATLAS .45 AE PISTOL
ATLAS EXOSKELETON
ATLAS HELMET
ATLAS PLAYER CARD
FIVE (5) BONUS SUPPLY DROPS
SINGLE PLAYER EXOSKELETON UPGRADE TOKEN
WELCOME TO ATLAS: ADVANCED SOLDIER MANUAL
COLLECTIBLE STEELBOOK™
OFFICIAL CALL OF DUTY: ADVANCED WARFARE SOUNDTRACK
Call of Duty Advanced Warfare Atlas Pro Edition - Sold Out
If you were lucky enough to get one of these then you will have bagged yourself not only everything that's found in the normal Atlas Limited Edition but you would have also got the Season Pass as well. It's the ultimate pack for the Call of Duty die hard and as such has sold out.
Call of Duty Advanced Warfare Limited Edition Xbox One Console with 1TB Hard Drive - £399.99
Just when you thought you couldn't spend anymore on a Call of Duty game there comes along the Limited Edition Xbox One Console. This insane bundle combines the standard version of Advanced Warfare with a limited edition console. Not only does the console and controller feature a custom paint job but you'll also get a 1TB Xbox One giving you 500GB more breathing space than anyone else out there.