Ian Beale is set to get the shock of his life later this month, when four ghosts from his past turn up in 'EastEnders'.
Luckily for Ian though, the four women are just returning as part of a BBC Children In Need sketch.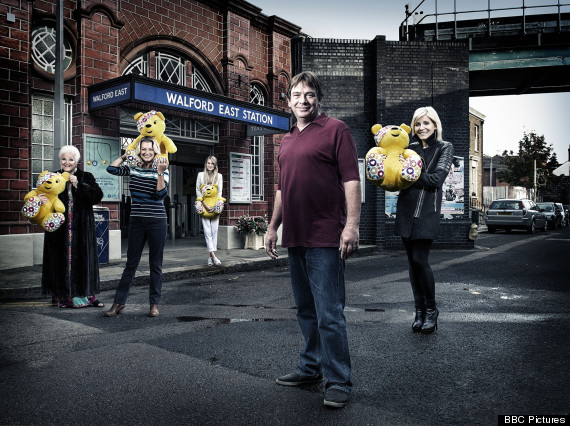 Adam, as Ian, takes centre stage in the sketch
The scene will show Ian, played by Adam Woodyatt, get the shock of his life when his murdered daughter Lucy Beale, ex-wife Cindy, mum Kathy and Walford favourite Pat Butcher all reappear.
As you'd expect, Ian is suitably surprised to see the women, and actor Adam has shared his joy at being reunited with his former castmates.
"It was one of the best days I have ever had at work," he states. "I never thought I would see the day where I was reunited with Gillian, Pam, Michelle and Hetti so to work with them all again and for such a great cause was an absolute dream.
"As soon as we got on set it was like none of them had ever left."
Adam's also revealed a few details about what fans can expect from the clip, stating: "After being knocked unconscious Ian finds himself taken back in time and he comes into contact with Pat, Cindy, Kathy and Lucy in various iconic places around The Square.
"I don't want to spoil it but Ian is really happy to see some faces and completely knocked for six by others but then again I think finding your late ex-wife in your kitchen is enough to shock anyone."
The sketch will be aired on Friday 14 November, as part of the annual BBC Children In Need telethon.
The evening will also include a performance from S Club 7, who are reuniting to perform a medley of their hits on the show
At present, Ian isn't having the easiest time in the BBC soap, and the hunt is still on for Lucy's killer.
Photo gallery

Soap Stars We Want To See Back On TV

See Gallery
LIKE US ON FACEBOOK | FOLLOW US ON TWITTER