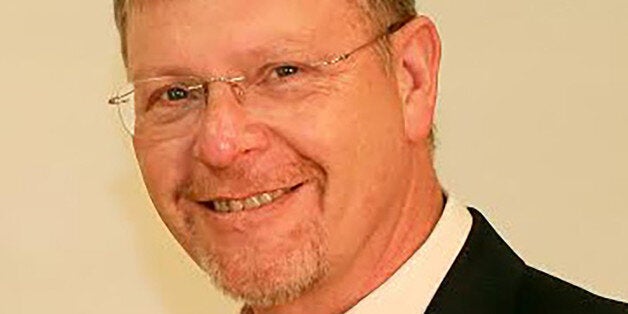 When it comes to breast cancer, it's often difficult to separate the myths from the facts.
Using deodorant or antiperspirant or wearing the wrong bra size won't increase a person's chances of acquiring breast cancer, just like eating a diet of superfoods, exercising religiously and having no family history isn't a guarantee that you won't get the disease. Neither is being a man.
Just like women, men need to be vigilant when it comes to awareness, and look out for warning symptoms like swelling or painless lumps in the breast tissue (often towards the nipple), nipples that are tender, turned in or producing discharge or swelling underneath the armpits.
Not thinking that breast cancer was a possibility was one of the factors which led 54-year-old software engineer Russ Heard, from Heanor, Derbyshire, to ignore his symptoms for almost a year before he was diagnosed with the disease, despite feeling an ongoing "stabbing pain" in his chest.
After undergoing a double mastectomy, lymph node removal, radiotherapy and chemotherapy, Russ is now taking Tamoxifen and is settling back into work after getting the all-clear from doctors.
He chatted to Huffington Post UK about his surprise at being diagnosed, the physical and emotional impact the disease has had and why he wants to raise awareness for men about this disease.
How did you find out you had breast cancer?
In hindsight, I could tell something was wrong. My nipples were inverted - one was inverted and one had a sore, puffy thing next to it. Sometimes pus would come out of it and sometimes it healed up again. I noticed that for about a year before my diagnosis in April 2013. I also had a stabbing pain in one of them. Once I went to the doctor, I was immediately sent to the hospital.
What was your reaction to the news?
One of the doctors gave me an ultrasound and then sent me off to biopsies as well - that's when I knew something was seriously wrong except I didn't get my results until a week later and I remember thinking if it's bad news, they would have told me by now.
I remember feeling very shocked at the time. I felt the blood going out of my face. My mouth went dry. I realised this is a really serious thing. The consultant said it's definitely cancer on both sides, and we've got a plan to get rid of it.
They booked my surgery for two, three weeks time. That was one of the relieving factors - it was comforting to know they were going to do what they could to fix it.
Did you know men could get breast cancer?
It never crossed my mind to be honest because it doesn't run in my family. Nobody else in my family has ever had it and it wasn't in my mindset to think about these things, female or male.
There's a long way to go before men are aware of these issues that breast cancer can bring. I got tested for the BRCA family gene to see if it was passed onto my son or daughter, and my brother's daughter as well. I don't have the gene to carry down.
What did you do for treatment?
First, I had a double mastectomy. Tests found the cancer had spread to my lymph nodes on the right side so I had those removed.
It took a couple of months for that operation to heal up - they take away quite a big chunk.
You need to wait for it to heal before you can start the chemotherapy. I had six sessions of that in total where I was injected by nurses with a cocktail of drugs. It took them an hour to inject the stuff every time. Following each session I had to have an injection to combat the side effects of the chemotherapy.
Earlier this year, in January, I started my radiotherapy. I had 15 sessions, one every three weeks.
How did the diagnosis impact you physically?
I've never felt ill in my life – during the whole year I had it. I had a few bouts of sickness, infections, where I had to go back to hospital for a few days.
That was one of the frustrating things: no real illness, no real pain, no evidence of a disease or anything like that. Even after the surgery all I had were a couple of scars to remind me of what they'd done. Even now it seems a bit surreal.
Being male, my body shape doesn't change that much. Women go through a lot worse than what I had to.
What were some of the physical things you experienced when going through treatment?
During the time I was having the treatment I was outside of the house very little. And right now I get tired very easily. Earlier this year I was given the all-clear and I've been trying to get back to what I used to do (in my younger years I played football, in more recent years, my interests have been motorcycling and photography).
My body is not as quick as it used to be - there is certainly a physical change. I am taking exercising more seriously - I try to - but my body is slower, doing less.
I feel more frustrated now because I'm a lot more tired than before. I'm on Tamoxifen tablets and I recently went to the doctor for a check-up because of all of the tiredness and heavy legs. I stopped taking the tablets for a few weeks to see if that's causing the symptoms and find out if there's something else they can prescribe or if it's par for the course.
How did you feel going through this experience?
I never felt stressed about it - I never felt any mental stress or physical stress. I just did everything the doctors were telling me to do. They had a plan and they followed that plan and everything's going great - we got through it all.
People have said that's the right mentality to have. Women have a more home-based, family mentality than men do, whereas men think, 'I have time off work now.' It's a lot more stressful for a woman.
How does it feel to be back at work?
I was off for nearly a year. There is a bit more normality being back at work (Russ is a software engineer at Experion, where he's worked for 30 years). It's very, very tiring though. I started going back for a few days a week and now I'm doing five days. It's mentally and physically tiring.
Do you wish you'd done anything differently?
I knew the symptoms were there a lot earlier in hindsight but I just assumed I had something wrong with my skin. I didn't realise there was going to be a disease behind what you could see. I didn't realise it was something inside me causing this.
It can be a fatal disease and you're well aware of that. I'm lucky I got the diagnosis before it caused too much apparent damage; I wish I had known about it earlier. But it never crossed my mind it could be something like that.
What are some of the ways that you can help raise awareness of breast cancer in men?
When you look at the posters in the doctor's surgery, they're all coloured pink. Men think breast cancer stuff looks aimed at women.
I think it could be made more available to men - and I've heard that comment in the past from male friends who didn't realise men could get it, even though we have nipples and men have breast tissue. It is a possibility.
When people talk about breast cancer, they usually talk about women and a lot of my friends, both males and females, are now aware of what I've been through and I'm quite happy to talk and share my experience. I'm quite open about it, I'm happy to answer questions and I'd love to get people more aware of it.
What did you learn from this experience?
It's great to have the opportunity to speak about my experience as so many men don't realise that breast cancer can affect them directly. Everyone's aware that the message has gone out to women to keep themselves checked and check their bodies for lumps and it is so important that this message reaches men, too. Although it's rare for men to get breast cancer, it does happen.