We are of course talking about Kevin Spacey's turn as Jonathan Irons, the CEO of a private army hellbent on remoulding the world into a 'safer' place.
We all know by now that Sledgehammer has done the series proud, indeed all the reviews have unanimously praised the game as the reboot it deserved.
Spacey on the other hand...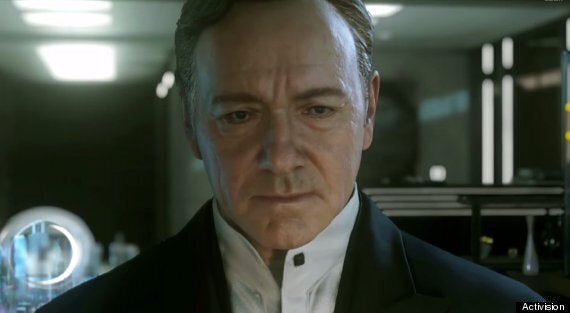 What the public is crying no. shouting to find out though is whether it's the game that does Kevin Spacey proud, or the Kevin Spacey that does CoD proud.
Well the verdicts are in and you'll be utterly surprised to find out that more than a few publications have noticed a few similarities between CoD's ruthless villain and the anti-hero we all love, Frank Underwood.
"All in all, not bad for a first attempt to enter the video game realm for Mr. Spacey. His performance is a little uneven, his in-game avatar doesn't always follow his voice's lead, but when they do sync up it's a little magical."
"When the world starts running out of bad guys, Call of Duty: Advanced Warfare finds the next great one in Jonathan Irons, performed by an upsettingly lifelike Kevin Spacey (House of Cards, The Usual Suspects). Irons steps out as the no-nonsense head of Atlas, a technologically masterful company for hire that makes quick work of anyone's war. As a freestanding beacon of power, Irons seduces the player on every level."
"Much has been made of House of Cards actor Kevin Spacey's turn as Jonathan Irons, the CEO of a paramilitary-oriented corporation named Atlas, but his performance tends toward over-the-top. This is at odds with the over-genuine, hyper-serious sobriety of literally every other character and the overarching environment the story takes place in."
"Spacey's character is almost a cut-and-paste job from his House of Cards persona, and it's suited to the role, but the performances still end up feeling one-dimensional and hammy. Even so, the story tackles the issues of totalitarianism, fascism, and war on a slightly more cerebral level than prior iterations of the series."
"The addition of the A-list actor, Kevin Spacey as villain Jonathan Irons, adds a strong presence that is missed in previous CoD villains, plus the amazing graphical detail on all of the character's faces definitely draws plenty of attention. However, as the story plays out, Irons' relationship to the main character Mitchell and the other characters lacks any real connection between them and fails to make their interactions feel as emotionally substantial as they're meant to be."