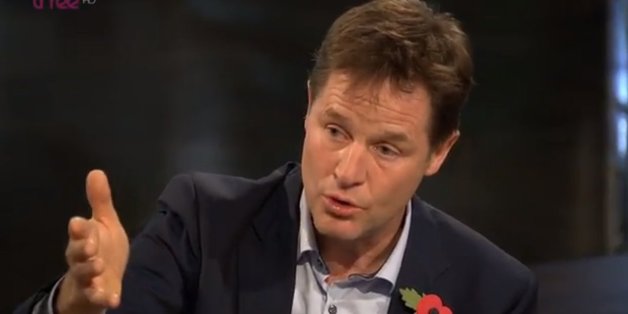 BBC Free Speech
Deputy Prime Minister Nick Clegg was given a grilling by young Londoners on Tuesday, who demanded to know
Clegg appeared on BBC's Free Speech to try and appeal to young voters, and answered various questions on the legislation of cannabis, tuition fees, mental health and LGBT education in schools - to name a few.
One audience member was given a round of applause after simply asking the LibDem party leader: "Have you ever struggled?"
She then added: "Have you ever been in school and wanted desperately to get a job, but you can't get a job because you are told you don't have experience? And then you can't get experience because you don't have a job, you can't buy lunch so you can't do your work, and then you're getting Ds and Es and then they're going to tell you you can't go to university because you can't get the grades. Simply because you've struggled.
"Have you ever been through that?"
Clegg answered: "I've been incredibly lucky in my life.. I've never pretended that I have struggled in my life the way you have alluded to. In politics I have tried to ensure we have more apprenticeships, fixed the shattered economy to make sure there are jobs for young people to go to, time and time again, I have tried to do the fair thing to make sure there are opportunities for people.
"Thankfully there are fewer people out of work than there were at the beginning of parliament."
Asked about the future, Clegg said he had learnt his lesson on promising something he couldn't deliver.
"Regardless of what you think of me, we need to look at what is happening now. When we [increased tuition fees].. we now have a higher proportion of youngsters going into university than ever before.
"People have looked at the details and realised there is no impediment at all to going to university.. and you on;ly pay back what you can afford during your working life.
"We couldn't deliver our manifesto because we couldn't win."
Clegg was also asked about the absence of female LibDems in the cabinet, to which he responded he had promoted four women to ministerial positions.
"In terms of the decisions we took we have helped thousands of women up and down the country.
"Westminster as a place is not representative of modern Britain. We've got a huge mountain to climb still to make sure the political class reflects Britain. Westminster on a Wednesday lunchtime resembles Downton Abbey gone a bit loopy."
On the topic of whether schools should teach students about LGBT relationships, Clegg was wholly supportive.
"I think we should have proper sex and relationship education in all schools. It helps kids grow up to be open minded."
One member of the audience brought up the issue of mental health, saying he had been waiting nine months for any kind of therapy.
"As of next April what happened to you won't happen again," Clegg promised him. "For years and years mental health was like a Cinderella service. It was ignored, a taboo. It's a massive change I'm trying to make. The first thing we did was a legal guarantee to make sure mental and physical health should within the NHS be treated equally.
"We have put £400m to make talking therapies more available. I've discovered the variation in how mental health trusts work across the country is extraordinary. From next April, there will be the same kind of waiting times for mental health as there are for physical treatments.
"I wish we could do it all overnight. As a country, we're finally being more comfortable to talk about mental health."
Speaking to HuffPost UK, series producer of Free Speech Brendan Miller said: "Because young people don't vote as much as other groups it often feels like politicians don't really care as much about what we think. Free Speech tries to be a bit of a correction to that but it relies on those in power agreeing to come on.
"So although Nick Clegg was given a tough time by our audience but I think it's good that he was up for doing it. Politicians always prefer sofa interviews to debate shows like ours because they're hard to predict and people are free to say anything. I always rate those who up for making their arguments to ordinary people rather than just their favourite interviewers."