For years Judy Murray was known only as Andy and Jamie's mum, sat at the side of a tennis court clenching her fist and baring her teeth - while her sons battled to become among the most highly-ranked athletes in the world.
She grew a reputation, which she vehemently rejects, as being an "over-competitive" and "over-bearing" mother.
Now, she's very much a star in her own right. And, waltzing in front of 10 million viewers each week as one of the stars of BBC's 'Strictly Come Dancing', she is determined to change public perceptions one glitzy costume change at a time.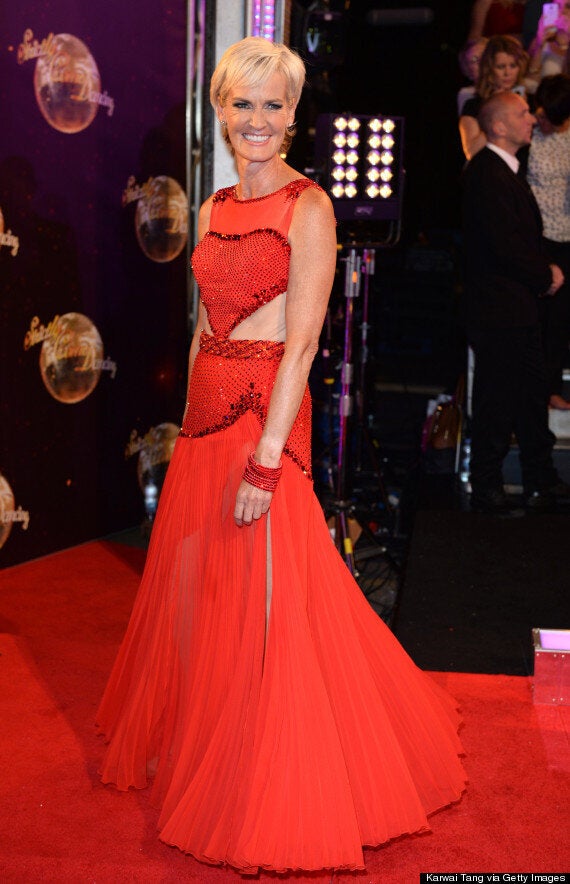 While she's first to admit that dancing is not her forte ("I'm not even remotely musical"), she sees the competition as a chance to show people that she's "actually quite normal".
Between 12 hours of training each week and a live performance, the show is taking it's toll on her body. "People assume because I'm always in a tracksuit that I'm fit," she tells HuffPost UK Lifestyle. "But I'm not."
High heels and fake tan may be a far cry from her usual sportswear, but she's proven her willingness to give anything a whirl - even if it is out of her comfort zone.
"I don't need anyone to tell me that I'm a terrible dancer, I know that already," she laughs. "I'm just trying to smile my way through the competition! I like to have fun and am happy to laugh at myself."
Anyone who follows her on Twitter can testify to her great sense of humour, but there is some public attention Judy refuses to take with such good cheer.
"I've had my fair share of attention and, at times, a lot of criticism," she says. "It's hard when articles are written by people who don't know me at all - when I've never even spoken to them."
She blames the media for its choice of photographs: "You never know when the cameras are on you at big events and the papers chose to print pictures of me clenching my fist or baring my teeth. It's not like I'm doing that for the whole match, only at the tough points, but that's what they chose to show."
For a long time the media scrutiny felt like a "punishment". "It's not something that you ask for," she says. "It just happens as a result of your kids being successful."
Would she have had the same treatment if she were a man? Probably not.
"I don't think I'd have been noticed [had I been a father]. A lot of people think it's not right to be a competitive mother. But I've been competitive all my life."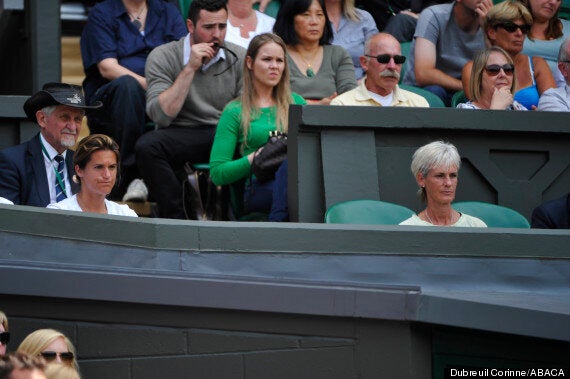 Judy with Andy's coach, Amelie Mauresmo, during his first round match at Wimbledon Championships in 2014
Even if you couldn't give two hoots about ballroom dancing, what is important is that Murray's new status means she can champion the things she is passionate about. And one of those things is women in sport.
"We need to raise the profile of women's sport and get better coverage, because if young girls can't see women in sport, then we can't expect them to aspire to be a female sportsperson."
With equal prize money, great coverage and athletes such as Serena Williams and Maria Sharapova, tennis is certainly in good shape, but other sports have a long way to go.
Murray has been heavily involved with tennis since her youth. She played competitively, briefly at professional level, but quit to go to university to study French and Business. She later returned to the game as a tennis coach.
She married and had two sons, Andy and Jamie, who grew into the tennis stars we know today; Andy currently ranks as British number one Singles player, while Jamie is British number two Doubles player and the Scottish number one.
It's clear that her competitiveness, hard work ethic and dedication has rubbed off on her sons.
But while many may see those attributes as a compliment, she's quick to defend herself against the 'pushy mum' label.
"I would never say that I've pushed my kids to do anything," she says. "As a parent you create opportunities for your children to try different things. When they are small you want them to try everything - my children tried every sport under the sun."
Andy and Jamie played other sports - football and golf, respectively - until they were teenagers, but then they had to make a choice. And both, thankfully for Britain, chose tennis.
But while Murray knew her sons had "ability" and "potential", her sons' success was never something she could predict or take for granted.
Being a professional athlete requires much more than talent alone, she says. In order to make a sport your profession, young athletes also need the right opportunities, hard work and sacrifice.
"With the grind of physical training, living out of a suitcase and lack of social life you never know if young players are ready or ever will be ready to commit."
It wasn't until Andy won the US Open Junior Grand Slam in 2004 that she realised that his life - and the family's - was going to change dramatically. Andy was just 17 years old and the first Scottish player to ever win the event.
When the Murrays returned from New York, Murray recalls, they were met by dozens of photographers at the airport and, later, on their driveway.
"I was blown away," she says. "And quite scared - I didn't know how they knew where we were staying."
"His win was a big achievement, but junior events don't normally get that much coverage," she adds.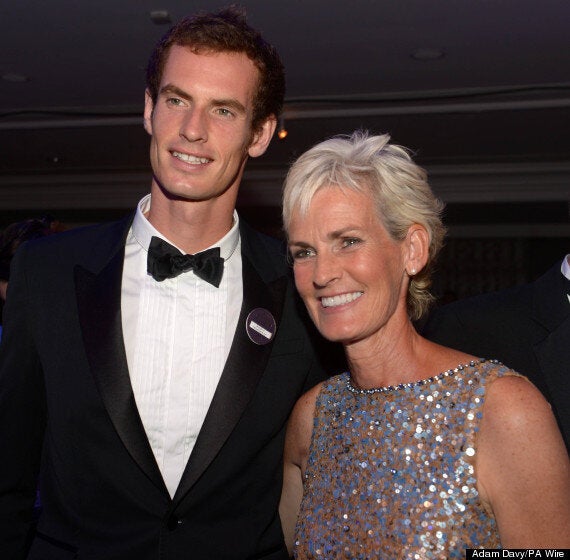 Andy and Judy Murray at the Wimbledon ball, 2013
Fast forward to the present day and Murray is determined to use her own fame and newly-elevated voice to make positive changes in sport and make it more accessible for everyone.
"Andy and Jamie are role models and it's important that we harness their legacy and Scottish kids now talk about tennis as much as football," she says.
Despite this increased interest, she says, there are few public tennis courts available in Scotland for people to use.
This is why Murray and her team are touring Scotland, as part of a new project Tennis on the Road, to "bring tennis to where it doesn't exist".
The initiative, which is supported by RBS, aims to give parents, coaches, teachers and volunteers the tools needed to get children active. Through regular sessions and guidance, Murray's team hopes to help develop grassroots tennis clubs, tournaments and training.
"Someone wanting to try tennis for the first time isn't going to rock up to the local tennis club," she says. "So we're bringing tennis to people."
With so many projects on the go, as well as coaching and hours of Strictly training each week, Murray rarely has time to put her feet up.
But, as is clear from the way she's lived her life, raised her family and shaped a very successful career, that's exactly how she likes it.