Heavenly food makes for a great weekend - don't you think?
Especially when the dishes drop straight from the pens of Hemsley and Hemsley, the stylish London sister duo who aren't just two pretty faces.
From the delectable chia chai breakfast pudding to a light but delightful sesame chicken salad, there's plenty here for your taste buds to get excited about...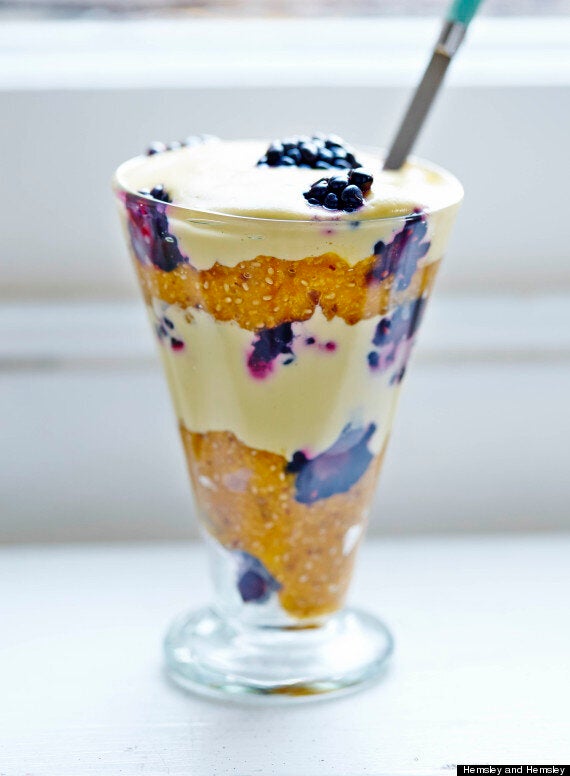 This is an overnight breakfast or make-ahead dessert. We've infused omega-3-rich chia seeds with our favourite rooibos chai breakfast tea and together they turn the usually savoury butternut squash into a sweet start to the day. Gently heating up the pudding before layering with the Mango Cashew Cream (page 49) is our favourite way to breakfast and warm our bellies in the autumn.
If you bake the butternut squash the night before, then it's ready to go in the morning. Don't forget to chew well in order to get the most goodness out of the tiny chia seeds.
1 large butternut squash (enough to make 400 g cooked butternut squash purée)
2 rooibos chai tea bags or 2 tsp rooibos chai tea leaves
4 tbsp white chia seeds (we used white chia to keep the pudding's bright orange colour, but black also works – and is
cheaper and easier to find too!)
1) Preheat the oven to fan 180°C/Gas mark 6 and roast the butternut squash in the oven for 40–50 minutes until cooked through and tender. Scoop out 400g of the squash flesh and mash well. Any leftover squash can be frozen and used in a soup or smoothie.
2) Add the squash to a saucepan with 350 ml water, the coconut oil and the tea leaves (or the contents of the tea bags, if using). Bring to a medium simmer, then remove from the heat and leave to cool for a few minutes.
3) Stir in the chia seeds, continuously whisking at first to avoid lumps, then add the honey.
4) Leave to sit for at least 20 minutes to an hour for the chia to swell (unless you like it crunchy). Alternatively, transfer to a flask and by the time you get to work, you'll have a nice warm chia breakfast pudding.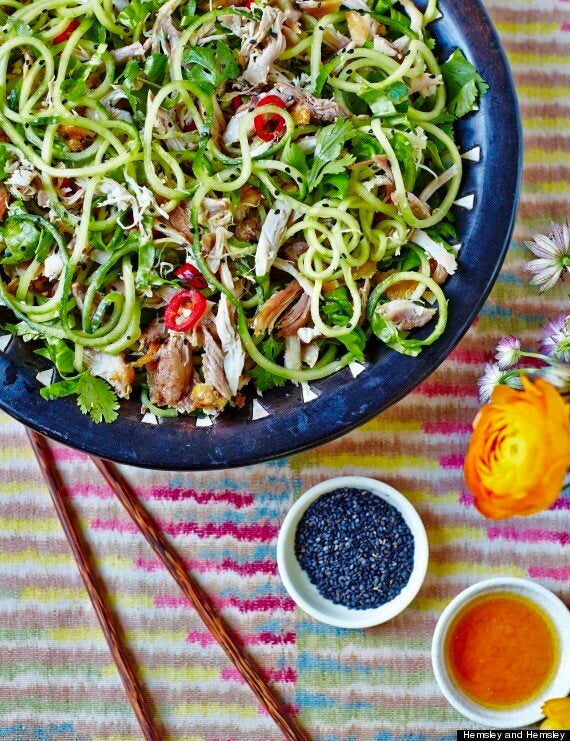 A refreshing summer salad with cucumber noodles and Asian flavours. This is the perfect way to use up leftover chicken or serve instead with a little fish or sliced seared beef.We love raw chopped pak choi, but you can substitute with Chinese-style cabbage or finely shredded English cabbage. Eat this within a few hours as the cucumber will start to get watery or make everything else up in advance and prepare the cucumber noodles just before serving. If you're taking this for lunch, pack the chicken first, then arrange all the veg on top so they don't get squashed, and take your dressing in a separate jar.
2 tbsp black or white sesame seeds
1 small head of romaine or cos lettuce, shredded into ribbons
1 small head of pak choi or 150 g Chinese cabbage, shredded into ribbons
3 spring onions, thinly sliced a handful of fresh coriander, roughly chopped
250 g cooked shredded chicken
5 tbsp sesame oil (not toasted) or extra virgin olive oil
2 tbsp toasted sesame oil juice of 1 lime or 3 tbsp lemon juice
Roast 2 large chicken thighs at fan 200°C/Gas mark 7 for 25–30 minutes until cooked, then shred quickly with 2 forks to cool the meat quickly.
1) Gently toast the sesame seeds in a dry pan until fragrant.
2) Use a spiralizer or julienne peeler to make the cucumber noodles. Or use a regular vegetable peeler to slice the cucumbers lengthways into wide pappardelle-style ribbons.You might want to cut the long, spiralized strands in half to make them easier to eat.
3) Prepare the dressing by whisking together all the ingredients in a bowl or shaking them together in a jam jar.
4) Add the lettuce, pak choi, spring onion and coriander to a bowl.
5) Pour over the dressing and mix everything together (hands are best).
6) Plate up with some shredded chicken and top with toasted sesame seeds. Serve immediately.
Serves 4 as a one-pot meal or 6 if served with side dish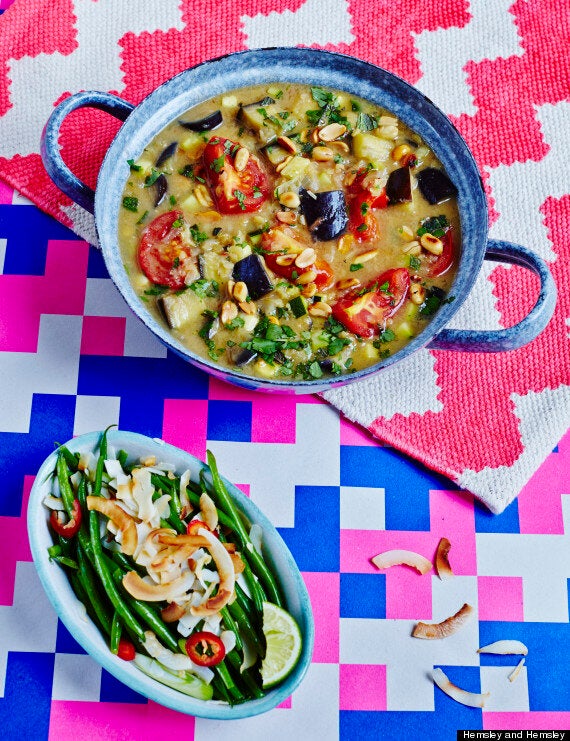 A simple one-pot supper that is warming for the soul. Red split lentils provide a quick-and-easy creamy base without the need to soak them. The coconut and ginger have incredible immune-boosting properties and, as usual, we like to sneak nourishing homemade broth into all our cooking.
With this fragrant curry, the bone broth is purely for the nutritional value, so you can afford to skip it if you don't have any to hand (but please don't be tempted to use stock cubes).
200 g bar of creamed coconut (use the oil for frying) or 2 tins of full-fat coconut milk plus 2 tbsp coconut oil or ghee,
2 thumb-sized pieces of fresh root ginger (about 80 g) – unpeeled if organic – grated
6 large garlic cloves, diced
200 g red split lentils, rinsed (no need to soak these)
500ml −1 litre bone broth or water (use a little less if you are using coconut milk and depending on how thick or saucy you want your curry to be)
1 large aubergine, chopped into 1.5 cm pieces
4 large tomatoes, quartered
2 large courgettes, diced grated zest and juice of
1 unwaxed lime or lemon (avoid the bitter white pith)
21⁄2–3 tsp tamari or 2 large pinches of sea salt
a handful of roughly chopped fresh herbs, such as coriander, mint or basil (Thai basil if you can get it)
1) In a large wide pan, dry fry the peanuts or cashews for a few minutes to toast them, roughly chop and then set aside.
2) In the same pan, heat the coconut oil over a medium heat and fry the onion, ginger and garlic for 10 minutes until soft (don't let the onion and garlic go brown).
3) Add the lentils, the roughly chopped coconut solids or coconut milk, and then most of the bone broth or water (a bit less if you're using the coconut milk) and stir well. This should be enough liquid for the coconut solids to dissolve, but keep an eye on the liquid levels so that the lentils don't stick and burn at the bottom.
4) After 6 minutes of cooking over a medium-high heat, add the aubergine and stir.
5) After a further 10 minutes, add the tomato, courgette, lime or lemon zest and the tamari or salt. Add more bone broth or water if you think your curry needs it.
6) After 6 minutes, turn off the heat and add the lime or lemon juice, the maple syrup and fresh herbs, then stir and taste.You might need a little more tamari or salt or lime or lemon juice to add sourness.
7) Top with the nuts and serve with watercress or your chosen side dish. If we're having guests round, we like to serve our curry with some little bowls of extras (nuts, herbs, lemon or lime wedges and a bowl of tamari or sea salt) so everyone can help themselves to extra toppings.
Recipes taken from The Art of Eating Well by Jasmine and Melissa Hemsley (Ebury, £25). Photography by Nick Hopper.