When 'The Blacklist' was first conceived, screenwriter Jon Bokencamp had two actors in mind, either Gary Oldman or Kevin Spacey, to play the role of criminal mastermind Raymond 'Red' Reddington. But it is James Spader who inhabits him on the NBC hit, which goes out on Friday evenings, and now Bokencamp admits, "Now I can't see anyone else in this role."
In contrast with many recent US hit dramas, this show doesn't even pretend to be an ensemble offering, with the show flying or failing on the appeal of its central character.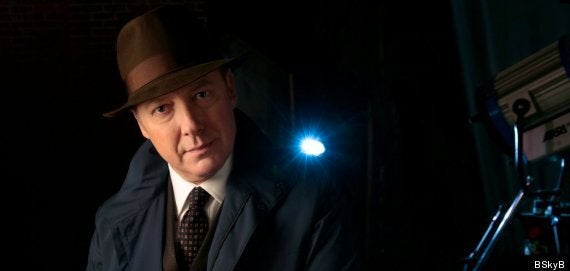 James Spader wasn't the first choice for 'The Blacklist' bosses, but he's made the role of Red his own
When the show launched last year, Robert Bianco of USA Today said, "The Blacklist is a solid weekly crime show built around a genuine TV star. That's the kind of series the networks have to be able to pull off to survive. And with Spader in command, odds are NBC will."
And, two series in, it looks like it has. In fact, each time the show airs on either side of the Atlantic, it is Reddington who inspires an impressive 80%-plus of all mentions, comments and compliments on social media. Spader is a previous Emmy Award winner for his roles in 'The Practice' and 'Boston Legal', and critical acclaim has poured in again for his role in this NBC hit.
It all seemed to go a bit quiet for James Spader back there for a while, following the phenomenal success of 'Boston Legal', due in no small part to his exquisitely awkward on-screen bromance with William Shatner. His sleeping talents were awakened with a walk-on in the US 'The Office', which soon became a regular role as the strikingly named Robert California. And then, Kevin Spacey and Gary Oldman didn't pick up.
So, what is it about Red, or rather Spader, that has caught the imagination of audiences, and secured this crime drama huge audiences in the US, a primetime post-Superbowl slot on NBC, and sale to Netflix for a staggering $2million an episode?
It seems they can't get enough of his savoir fare, his sinister undertone of suggested violence, and the way he has with a bon mot - apologising to his victim's wife as he locks her in a cupboard, and sounding as though he's making his excuses for leaving a bottle of Pimms in the car. It's all very civil, and extremely sinister. "It can never, ever, ever get weird enough for me," James Spader recently told Rolling Stone magazine.
But is Red good pretending to be bad, or the other way round? Former government agent turned underworld mastermind, this self-professed "concierge of crime" has voiced a strange wish to turn informer for the FBI, and help one of their number in hunting down his associates from the criminal world. What on earth is going on? And is Elizabeth Keen (Megan Boone), the only FBI agent he'll deal with, or is she not, related to him?
No less importantly, what hat will he be wearing? James Spader himself owns 30, and many of them have made it onto Reddington's cropped head. This, and other enquiries, looks like keeping happy audiences guessing …
Watch James Spader as Raymond Reddington in 'The Blacklist' below, and let us know - what shows haven't we mentioned on our pages that you think we should be watching?
Related