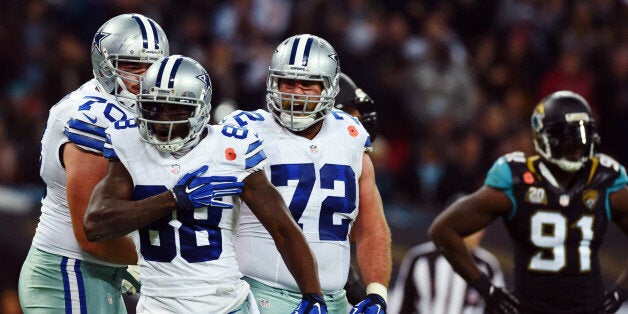 By the time the Jacksonville Jaguars move to London in about five years or so, there's a chance they might actually be good - but an awful outing at Wembley against the Dallas Cowboys proved that right now, they're anything but.
The Florida team, now with a record of one win and nine losses, and who the NFL are promoting above all others in their International Series games, were outclassed at every level by the 7-3 Dallas Cowboys, succumbing 31-17.
Save for a fluke two-point safety and touchdown late when the game was already out of hand, the Jaguars failed to muster much to excite the fans. Dallas rattled off 28 straight points through the first three quarters, all a result of Jacksonville's torrid defense. Dallas quarterback Tony Romo, playing with two fractures in his back, threw for three easy touchdowns and 256 yards while running back DeMarco Murray, to this point a clear candidate for the NFL's Most Valuable Player award, had his ninth 100-yard rushing game of the year.
Both statlines owed a vast amount to Dallas' dominant offensive line, which opened gaping holes for Murray, and kept the hobbled Romo upright, all game. Jacksonville, who came into the game tied for third in the league for sacks, failed to hassle Romo, instead leaving him with ample time on almost every throw.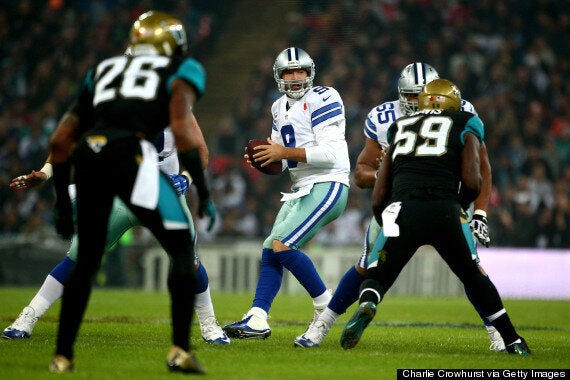 Cowboys QB Tony Romo lead his team to their seventh win, despite two back fractures
The Wembley crowd must have thought they were in for a game when Denard Robinson gave the Jaguars a 7-3 lead midway through the first quarter. Back/receiver hybrid Robinson, who played quarterback in college, dashed 33 yards for a touchdown, untouched, after a methodical 80-yard drive. They wouldn't see the endzone for another three-and-a-half quarters, as the game unravelled from there for the Jags.
After a terrific defensive stand, second-year receiver Ace Sanders delivered Dallas an absolute gift, fumbling the ensuing punt, and giving Dallas a reprieve. Veteran tight end Jason Witten caught a five-yard touchdown pass from Romo three plays later, and from that point the Cowboys never relinquished their lead, and never looked like losing. Two Dez Bryant touchdowns later, both a result of poor positioning and poor tackling from Jacksonville's secondary, and the game felt over at half-time, with Dallas leading 24-7. Bryant had 158 yards on six catches in the game, all registered in the second quarter. His stellar performance crippled the Jaguars.
In some ways, the final scoreline said more about how poorly Jacksonville played than how well Dallas played. Desperate for points before the end of the first half, Jacksonville turned the ball a second time, just one of a number of self-inflicted wounds in the game. After Cecil Shorts III's exceptional 51-yard catch and run, Robinson coughed up the ball, from which Dallas scored immediately. Rookie quarterback Blake Bortles, who lead the league in interceptions heading into the game, threw one and had another called back for a penalty. It was not a good night for the USF alumnus, who looked slow in his decisions and rarely looked beyond his first read.
After the game, Jaguars coach Gus Bradley looked enthusiastic and confident, and said he felt the result didn't reflect on his team's effort levels. Instead, Bradley felt it was "time to take the next step" for his team - quite what the next step is for a team that has won just once this year, was left unanswered. Jacksonville has been 1-9 after its tenth game each of the past three seasons, but Bradley insisted this is a team on the rise.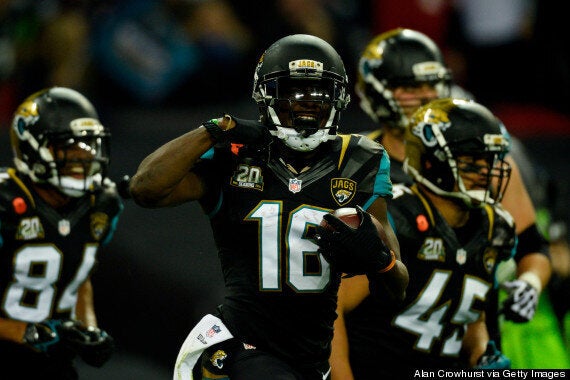 Running back Denard Robinson was a lone bright spot for Jacksonville, scoring two touchdowns
Asked if he felt his team were better than they were playing, Bradley told reporters: "That's the frustration. I told them in there, there's no doubt that I was angry. I just didn't feel like we were playing as special as we could have. I didn't believe we were playing our best."
Safety Johnathan Cyprien went further: "We didn't play well at all. We played terrible... We can do it, it's just a matter of of fact of doing it."
"We've been improving, definitely," Cyprien, arguably at fault for Bryant's go-ahead touchdown, said. "There were some glimpses in our improvement, honestly, and we have to figure it out."
Cecil Shorts III, a relative veteran in a team where half of the players are in the first or second years, summised the team's vision: "As a team we have to get better, it's not just the younger guys. As a team we have to continue to fight, continue to grow, and good things will come."
The Jaguars face a tough final stretch to the season, but have a chance to finish the year on a positive note with somewhat easy games against two division rivals, the Tennessee Titans and Houston Texans. The team must start winning those games if they want to move up the NFL food chain.