Khloe Kardashian has angered fans, by posting a meme of herself and her sisters Kourtney and Kim Kardashian, which features a reference to the KKK.
The 'Keeping Up With The Kardashians' star posted the pic - which contains the words "The only KKK to ever let black men in" - on Instagram, but it wasn't long before outraged fans began commenting.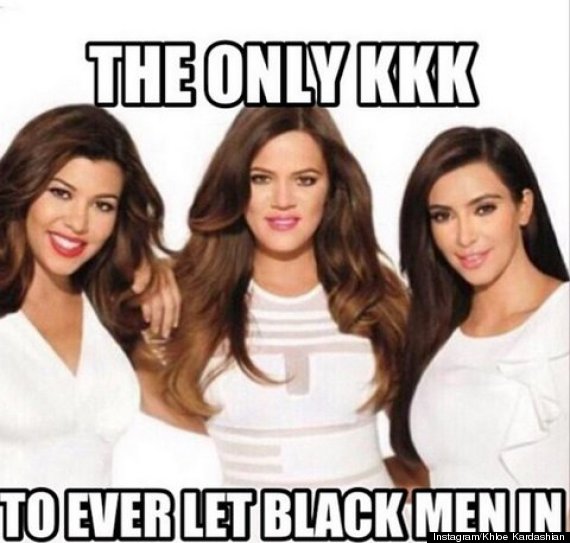 The photo has now been removed
Khloe later removed the snap, however, by then many fans had already taken a screengrab of the picture.
Hundreds of fans have taken to Twitter to discuss the snap, with many stating Khloe should apologise, while others have raised the question of whether the post is racist.
"I'm sorry but @khloekardashian is dumb for that KKK comment. That's not funny and I'm a fan!!!," writes one Twitter user, while another adds: "Khloe Kardashian posting "the only KKK to ever let black men in" joke is wild tasteless."
Did anyone see @khloekardashian trying to make light of the racist KKK club on instagram? Like.. The Kardashians are awful.

— Femininja (@Femininja4Q) November 12, 2014
However a handful of users think people are overreacting:
Honestly I didn't have a problem with Khloe joke...hell I thought it was funny...who takes a Kardashian serious? Only dumbasses

— Bishop Creep MaGraw (@DrJackMaGrawPhD) November 12, 2014
That KKK joke Khloe Kardashian put on IG was funny & true. 😒 yall blow everything up!

— Kourtney Covington (@Phenomenal_KJC) November 12, 2014
Khloe's controversial post has (almost) stolen the limelight from her sister Kim, who revealed the results of her latest naked photoshoot earlier today.
While Khloe is facing serious criticism, many fans have made light of Kim's nude shoot, creating memes featuring her mag cover.
LIKE US ON FACEBOOK | FOLLOW US ON TWITTER