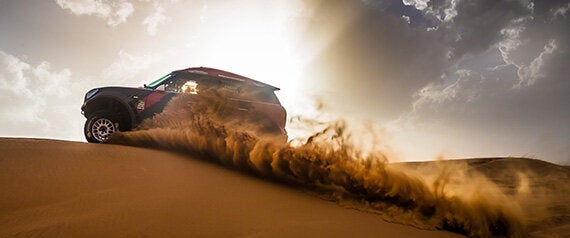 Here's your chance to sample the axle-grinding, wheel-churning exhilaration of the world's toughest rally, as guests of the MINI ALL4 Racing Team. Or walk away with a seriously tough GoPro camera.
You and a friend could follow the MINI ALL4 Racing Team across South America through some of the most breathtaking landscapes on the planet, as they go all out to land their fourth win in a row. You'll hit the trails in an ALL4 MINI Countryman to discover the rally stages, meet the drivers and take in the awe-inspiring scenery of South America.
This trip of a lifetime begins on January 1, 2015 and ends on January 12, 2015. It includes all meals and accommodation, plus return flights from London to Buenos Aires.
Three lucky runners up will also be able to capture their next adventure on an ultra-lightweight, gear-mountable GoPro HERO 4 Silver Edition camera/camcorder.
Feeling adventurous? Enter here.
The competition is now closed. thanks you for your entries.