Jim Kerr of Simple Minds believes there's still a huge hunger for his band's kind of rock music, even if the charts are full of samples, electronic dance and young singers.
"Every generation has its soundtrack," he tells HuffPostUK. "Fortunately, our stuff still has something. They're big tunes, which makes them communal, and they go down a storm at festivals. And then people like David Guetta jump on a track and sample it, so a whole new bunch of ears gets to hear our stuff. So we're not museum pieces yet."
Interview: Why James Blunt Doesn't Worry About 'A Few Men In Their Bedrooms With Their Trousers Round Their Ankles'
Jim reveals that he always used to look at bands like the Rolling Stones and wonder why they kept going, until his group found themselves doing the same thing.
"We supported the Stones, and we used to look at them and think, 'Why?'" admits Jim to HuffPostUK. "But it's written on their faces, they're old blues guys. And now I've come to accept that this is what we do, too, it's just who we are."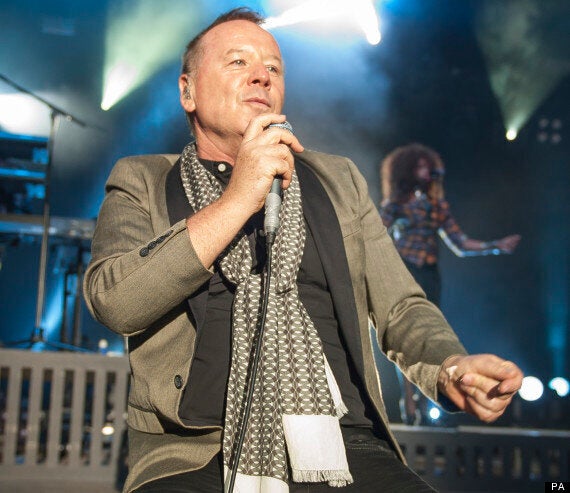 Jim Kerr still gives it "100% every night - you have to"
29 years after songs like 'Don't You (Forget About Me)' and 'Alive and Kicking' made them one of the world's biggest bands, gracing the era-defining soundtrack of 'The Breakfast Club' and filling stadiums around the world, Jim Kerr has decided not to fight his enduring urge to perform, hence the arrival of 'Big Music' - the band's 16th studio album, full of sounds familiar to the band's fans.
On writing duty with Jim, as ever, is Charlie Burchill, the other half of one of rock's most enduring marriages, surely? "We go back to when we were eight years old," agrees Glasgow-born Jim. "We've got lots of things in common, we're best mates and we give each other space. For us, the world makes sense through music, and we escape through it, too."
With constant touring - playing to 130,000 in the UK last year - and all this music pouring out of them, the chaps may indeed love to create new tunes - but don't people just want to hear the big foot-stomping hits, waiting impatiently, until Jim finally asks them, "Won't you come see about me...?"
He laughs. "We have to balance it, given they get such a good reaction. Our new songs have to be up to scratch, too or the whole set is damaged. We're not reckless."
'Big Music' is available now - click here for info, with the first single 'Honest Town' below. The band is set to go back on the road next year - dates and ticket info available here.