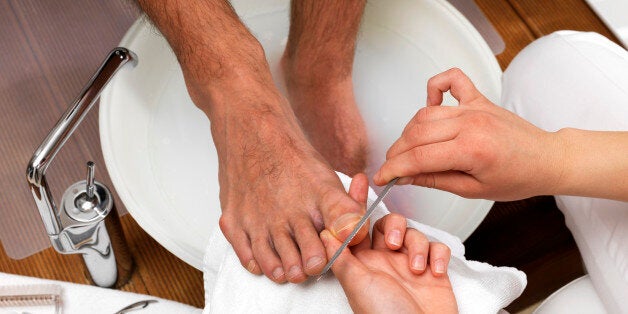 It's not often I find myself in Mayfair on a Monday night. And by often I mean never and by Monday I mean ever.
In fact I'm fairly sure the area has an entrance policy against those who grew up in a semi-detached house in the north-east.
Yet here I am about to sail gleefully through the doors of The Refinery for a pedicure, manicure and a facial.
Yes, you read that right, a pedi-mani-face combo, because that's what men do these days.
For proof you only have to look at the Refinery itself, forging a reputation by serving men only since they opened in 2000.
So, it begs the question: "Do you, as the average bloke, need to spend nearly £170 indulging yourself for two hours on nail and skin treatments?"
Well perhaps a more appropriate question for me personally is: "Do you need to sort out feet that every 10 days or so resemble the killing appendages of something out of 'Jurassic Park'"?
To this the answer is yes, so I'm willing to give it a go.
In I go full of amateurish enthusiasm and introduce myself and am quickly led to the waiting room where I am picked up by my therapist for the evening, Peta.
Initially I'm overwhelmed by sorrow for the poor woman who will have to actually handle my feet, a full day's worth of sweat festering since morning.
But it's all fine because the best bit abut getting a pedicure is you get to sit in a massive chair with a foot spa. Oh, and you can have a glass of wine.
Some poking and scrubbing later and it's the turn of my hands. I thought I'd done really well by not biting my nails all weekend so she'd have something to work with but what I present is ten fingers all in various states of mismatched growth.
But again, all this is quickly straightened out as me and Peta have a jolly old chat.
It's the facial next and I'm not going to lie - I've had one before and bloody loved it.
This one too is superbly relaxing as a mixture of steam and oils are applied in gentle massaging strokes.
So is it worth it? There's no denying that unless you're a frequenter of Mayfair (which is obviously who they're pitching at), £170 is a lot of money.
Probably not, just stop biting your nails and keep them trimmed.
If you're going to wearing sandals in the immediate future. Otherwise, get one, make a mental note of what your feet should look like and keep them that way.
It's a treat and if you can get away with having one once in a while then do it because, in the words of one north-east native that certainly is allowed in Mayfair: "You're worth it."
Related