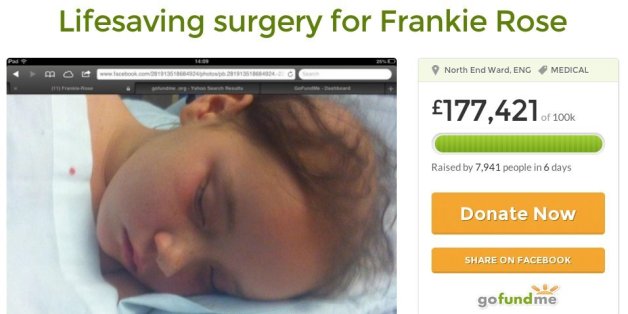 GoFundMe
The family of 7-year-old cancer sufferer Frankie-Rose Lea have raised enough money to fund her life-saving proton-beam therapy.
Frankie-Rose received more than £175,000 in donations in just six days, after her family launched a public appeal and fundraising page for help.
Frankie-Rose was diagnosed with a rare brain tumour in August this year. Despite 10 weeks of grueling chemotherapy, her tumour has tripled in size and spread to her spine.
"She has lost 9 kg [almost 20lbs], her hair but most importantly her spirit," her parents explain. "We were today advised that she needs radiotherapy immediately."
Frankie-Rose needs proton-beam therapy, which is the same treatment given to Ashya King, who had medulloblastoma, a type of brain cancer.
Proton beam therapy is a type of radiotherapy that use protons (sub-atomic particles) to achieve the same cell-killing effect.
The family originally planned to travel to the US for Frankie-Rose's treatment, but her worsening condition means she will be unable to fly. Parents are now are looking to take their daughter to Germany or Switzerland for treatment.
"We can drive there, despite the news we will are not giving up," they wrote on her Facebook page.
The family are "overwhelmed" by the support of well wishers.
Speaking to MailOnline, Mrs Lea said: "We are overwhelmed, humbled and extremely grateful. Thank you to you all.
"Not just the people who donated but also the people who also took their time to send us messages of support. I could only read two at a time without crying but I intend to read every one. I wish I could thank you all personally."
The fundraising page raised £50,000 in just three days. But as Frankie-Rose's condition worsened, the family thought they might have to put their home up for sale to fund the emergency treatment.
Thankfully, donations continued to pour in and the family now have enough money to fund treatment.
To show your support for Frankie-Rose visit her Facebook or fundraising page.