The whole of Europe should boycott the next World Cup if Fifa does not root out the corruption that makes it "beyond ridicule", the former head of the Football Association (FA) has said.
Fifa was mocked after its own report cleared itself of any corruption in awarding the 2018 and 2022 World Cups to Russia and Qatar respectively - and instead accused the FA of corruption in pushing for England to be awarded the 2018 tournament.
David Bernstein, who chaired the FA from 2011 to July 2013, called the decision to award a world cup to Qatar "one of the most ludicrous decisions in the history of sport" and said the football's world governing authority was "totalitarian" and damaging the sport's credibility.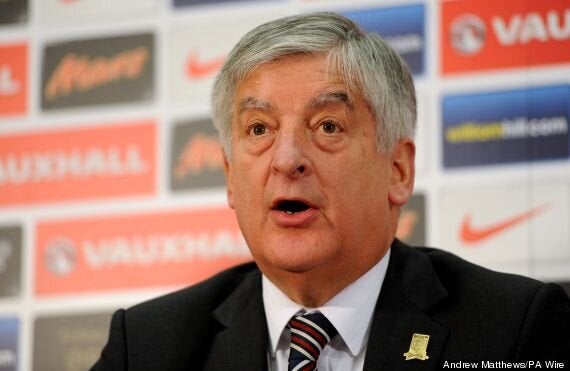 David Bernstein, pictured last year when he was still FA chairman
Speaking to the BBC, he pushed the idea of a world cup boycott if Fifa did not improve.
He said: "If I was at the FA now, I would do everything I could to encourage other nations within Uefa - and there are some who would definitely be on side, others may be not - to take this line.
"At some stage, you have to walk the walk, stop talking and do something."
When asked if Europe's governing football authority Uefa should join a boycott, he said: "Unless it (Fifa) could achieve the reforms that would bring Fifa back into the respectable world community, yes I would.
"It sounds drastic, but, frankly, this has gone on for years now. It's not improving, it's going from bad to worse to worse."
"You can't hold a serious World Cup without them (Uefa). They have the power to influence if they have the will."
He added: "England on its own cannot influence this... If we tried something like that, we'd be laughed at."
This led to calls for the full findings to be published, rather than the 42-page summary which was released.
European football heads have already expressed their anger at Fifa. German Football League President Dr. Reinhard Rauball said Uefa could leave it altogether if the full report is not published.
"If this doesn't happen and the crisis is not resolved in a credible manner, you have to entertain the question of whether you are actually still in good hands with Fifa," he said.
"Things haven't exactly been cleared up in the way we all hoped, so that all the public's doubts were washed away."
Greg Dyke, Mr Bernstein's successor at the FA, described Fifa's conclusions and behaviour as "a bit of joke".
Popular in the Community