Asda are the latest to jump on the 'Kim Kardashian naked bum' bandwagon, by spoofing the star's recent Paper magazine cover... to sell a cheap bottle of fizz.
The campaign features a Kim K lookalike (complete with smaller derriere) and the tag line "don't break the budget" (a reference to the original "break the internet") and is being use to promote the supermarket's £10 Pierre Darcys Champagne ahead of Christmas.
So far, so harmless.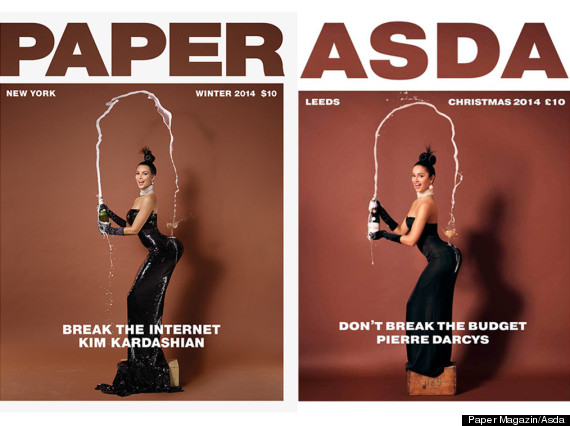 But while reaction to the Asda advert has been remarkably positive, just last week the original shoot was accused (on strong grounds) of having sexist and racist undertones.
This isn't the first time Jean Goude's has photographed a woman balancing a Champagne glass on her backside. Only last time the woman was black, naked and featured in a book called 'Jungle Fever'.
"This idea that 'black equals erotic' is fetishism in its purest form," writes Blue Telusma in The Grio. "It mocks 'otherness' while pretending to celebrate it and defines human beings by their genitals instead of seeing them as whole people."
SEE ALSO:

These Memes Of Kim's Bum Are Better Than The Actual Mag Cover
So where does Asda fit into this? Should a brand spoof such a loaded image or is it just a bit of harmless fun?
HuffPost UK Lifestyle contacted Asda for comment, but the supermarket chain have yet to respond.
Let us know your thoughts on the spoof in the comments below...