Jonny Lee Miller and Lucy Liu return tonight in the third season of 'Elementary', proving that this US take on the Sherlock Holmes tales has got a lifeblood of their own, and not just as a pale imitation of our beloved British stars.
Dr Joan Watson and Sherlock Holmes are back for more in Season 3 of 'Elementary'
While Benedict Cumberbatch and Martin Freeman's meteoric rise, as well as the busy schedule of writers Steven Moffat and Mark Gatiss, has meant any new episodes of 'Sherlock' have been as elusive as Mycroft, the American show has gone from strength to strength, with fans increasingly warming to the chemistry between the two stars.
Firm followers will be familiar with the twist in the tale from the beginning. While Sherlock, played by Jonny, remains as British as the Queen, his trusty sidekick is no crusty gent in tweed - apologies, Mr Freeman. Instead, Lucy Liu brings her unique glamour to the role of Joan - get it?- and her eyes roll where Watson's would usually soften. There's no nonsense in that household.
Now, this third season introduces another element that will be familiar, yet with 'Elementary's own novel spin.
Just as the books and British series always showed Sherlock's comfy set-up being shaken up by the arrival of Watson's new ladyfriend, later wife, so another triangle emerges in 'Elementary'.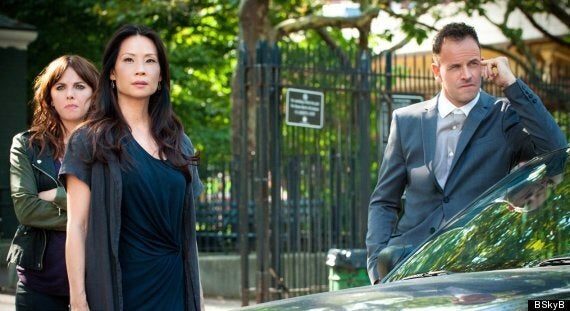 And Kitty makes three... Ophelia Lovibond, Lucy Liu and Jonny Lee Miller in 'Elementary'
Because Holmes has a new apprentice, Kitty, played by British actress Ophelia Lovibond, and she's got a touch of the little green monster, her jealousy of the close bond between Sherlock and Joan, which is threatening to override her judgement when it comes to solving the case.
In the absence of any action from Cumberbatch and co, fans have evidently warmed to this more consistent source of crime drama. Across social media, there is widespread praise for the chemistry between Johnny Lee Miller and Lucy Liu, as well as Jonny's "hilarious performance" as former drug addict miraculously turned supersleuth Sherlock. There's appreciation, too, for Joan's outfits, "the best work wardrobe on TV" (Scandal's Kerry Washington won't be happy with that!)
And there's at least one hardcore fan out there, judging by this gargantuan effort that leaves any Cumberlovin' firmly in the shade…
'Elementary' returns this evening to Sky Living at 9pm. Watch the trailer for new series below...
All TV trends data referred to in this article has been supplied by Virgin Media, which provides access to up to 260+ channels including Freeview Channels, Virgin Movies, Sky Movies and Netflix. Some images from last season below...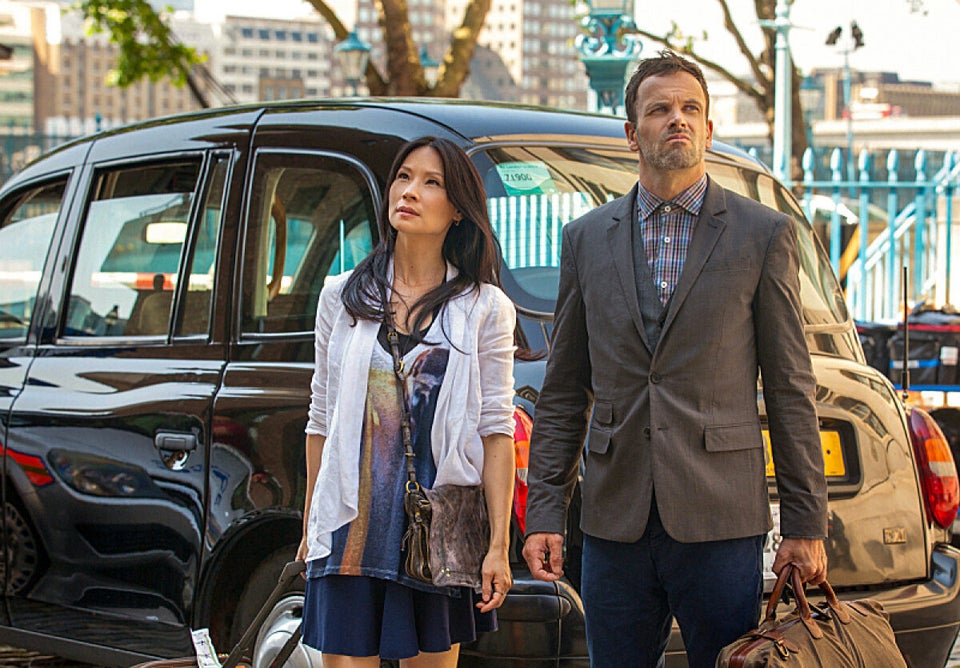 Elementary Season 2