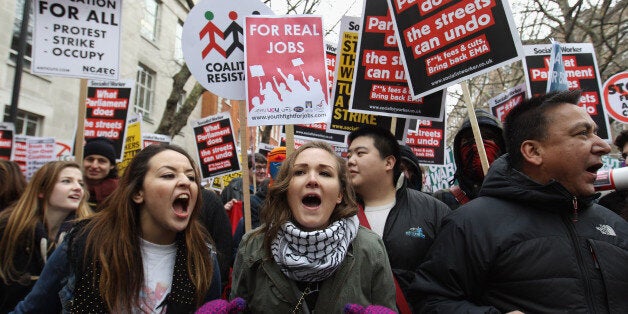 A march in central London to support free education is expected to attract thousands of students from across the UK on Wednesday.
A coalition of student groups, including the Student Assembly Against Austerity, the National Campaign Against Fees and Cuts, and the Young Greens, has organised the march which is expected to be the biggest since tuition fees increased in 2012.
Aaron Kiely, an organiser with the Student Assembly Against Austerity, said: "Wednesday's national demonstration marks the start of a major wave of action between now and the General Election which seeks to turn up the heat on politicians and political parties to listen to the demands of the student movement."
The demonstration has not been without controversy with the National Union of Students withdrawing its support last month due to safety concerns.
Writing on the NUS website, National President Toni Pearce said: "NUS has policy to support free education and we will continue to lobby and campaign for this, but no action that we take should be put above the ability for all our members to be safe."
Responding to allegations that it has since conspired against the protest, the NUS said at the time: "The allegations of NUS making a concerted effort to get individual unions to withdraw their support is absolutely false."
Despite a lack of support from the national NUS, NUS Scotland will be represented at the demo, alongside some of those elected to the NUS National Executive.
Malia Bouattia, NUS black students' officer said: "It is Black students, along with other oppressed groups, who suffer the greatest disadvantages from the government's continued austerity measures."
The march is due to take place from midday until 4pm on Wednesday, beginning at Malet Street and ending outside Parliament with a rally of speakers and campaigners.
The demonstration's Facebook event page has more than 5,000 people listed as attending.
Shelly Asquith, President of University of the Arts London Students' Union added: "We cannot rely on simply passing policy at NUS National Conference and meeting privately with Government ministers to win an education that functions how we want it to: free, inclusive and democratic."
Related