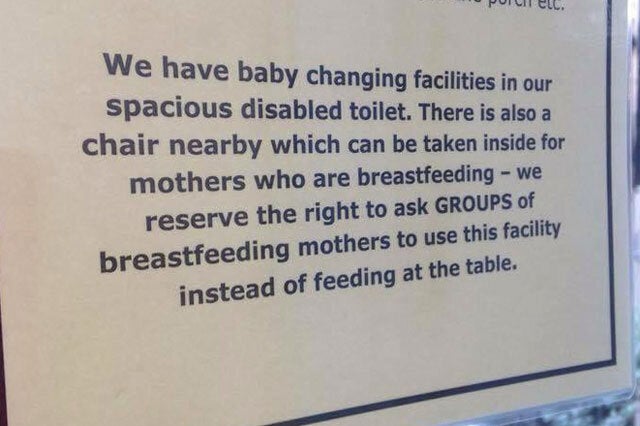 A family cafe has been forced to apologise over a notice asking breastfeeding mums to use the disabled toilet.
Tillings Cafe in Gomshall, Surrey, put up the laminated sign which read: "Polite notice for the comfort of customers.
"We have baby changing facilities in our spacious disabled toilet.
"There is also a chair nearby which can be taken inside for mothers who are breastfeeding.
"We reserve the right to ask GROUPS of breastfeeding mothers to use this facility instead of feeding at the table."
The family-owned coffee shop was quick to take down the sign and issue a full apology, claiming the notice was meant to present an option for mothers, rather than an order.
The apology came after the Dorking branch of the National Childbirth Trust complained after a member sent them pictures of the sign.
Hayley Kenway, who has a seven-month-old, said: "I have been there before and have never had any problems.
"But after hearing about this I am disgusted that they have requested babies to be fed in the toilets.
"Asking any of their customers to feed in the toilet is a breach of human rights."
Mum Sophie Stone said: "It's laughable that they seem to suggest groups of mothers take it in turn to use the chair in the loo.
"I think the screams of hungry babies would cause more disruption than feeding them ever would."
Owner June Radford, who has run the café for three years, said: "Tillings can only apologise for a huge miscommunication.
"We have had many happy breastfeeding mums in our café in the three years we have been open and we continue to support breastfeeding.
"We have never and would never ask anyone to stop breastfeeding in the café.
"We are a small independent family-owned business and we try to do our best to look after all of our customers.
"Being human we can make mistakes and if we have offended anyone in trying to establish an option for more private feeding facilities we can only apologise and ask for your help in telling us what we might do to support the breastfeeding cause."
What do you think? Well meant but silly mistake or downright rude?