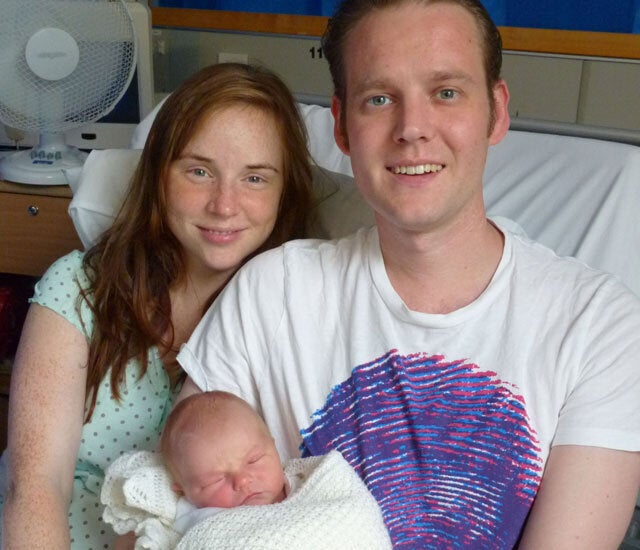 A super-fit triathlete who had six heart attacks on his honeymoon has become a dad after receiving a transplant.
Andrew Britton, 34, was hit by a virus just a few hours after arriving in the Maldives a day after his wedding.
He and his new bride Lauren, 33, initially put the groom's symptoms down to a hangover, but when his condition worsened he was flown to hospital in Bangkok where he was put on life support for seven weeks.
Eventually Andrew became stable enough to be flown home to the UK where he was diagnosed with myocarditis, a viral infection that leads to inflammation and damage to the heart, and told he had experienced six heart attacks.
He was fitted with a mechanical heart, but was told his only chance of survival was a heart transplant.
Andrew spent over a year in Harefield Hospital as he waited for the news that would save his life.
A donor heart finally became available and it was transplanted into Andrew in a 13-hour operation.
Lauren told the Mail: "It was so emotional because we knew that someone needed to die in order for Andrew to have his heart - but at the same time we couldn't believe we'd finally got our second chance."
But despite the couple's joy about his homecoming, their happiness was tinged with sadness when doctors warned them they would be unlikely to conceive a child.
Lauren said: "We had planned to start trying for a baby as soon as we got married, but obviously that didn't go to plan.
"When we realised we may not be able to have children because of all the medication Andrew had taken, it was really disappointing.
"We had talked about different fertility options, as we assumed having a child naturally was impossible.
"When I found out I was pregnant just a month after Andrew came home we could hardly believe it - it was amazing."
The couple's 'miracle' child, Frank Fabio, was born in October - and named after Andrew's surgeon at Harefield.
Lauren, from Denham, Buckinghamshire, said: "If you'd have told me back in 2012 that I'd be here today with a healthy husband and a new baby boy I'd have never believed you.
"Watching Andrew fight for his life was the scariest experience of my life, and then waiting every day for a donor heart was very stressful.
"We had hoped to start a family as soon as we got married, so when we realised that Andrew's medication would have made having a baby difficult it was really upsetting.
"We had begun talking about fertility treatments, so when I discovered I was pregnant it was such a surprise - we didn't even think it was possible.
"We've named Frank Fabio after Mr Fabio De Robertis - the amazing surgeon at Harefield Hospital who transplanted Andrew's heart and saved his life.
"If it wasn't for him, Frank Fabio wouldn't be here.
"I never thought that I'd be able to celebrate this Christmas with a healthy husband and a new baby boy."