In the modern swipe-happy dating world of Tinder and Happn, it's easy to forget what good old-fashioned romance looks like. Luckily one four-year-old boy is on hand to teach us a thing or two about love.
Aided by his mum who typed as he dictated, Bennet created an adorable love letter to a girl at his school.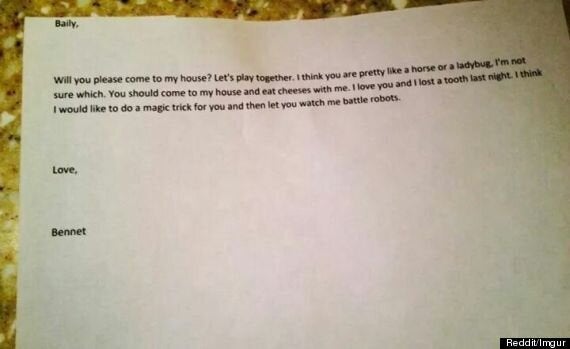 The note, which was uploaded to Reddit, has since gone viral. It reads:
Will you please come to my house? Let's play together. I think you are pretty like a horse or a ladybug. I'm not sure which. You should come to my house and eat cheeses with me. I love you and I lost a tooth last night. I think I would like to do a magic trick for you and then let you watch me battle robots.
Bennet's mum Jennifer said he asked write a letter after he saw her sending emails: "I asked him who he wanted to send a letter to and he stated, 'Baily of course'. So, he sat down next to me on the couch and dictated the letter and I typed word for word what he said.
"He talks constantly about her and how much he loves her 'yellow hair'. He will be having his 5th birthday party in a few weeks and the theme is knights and princesses, he is over the moon knowing that Baily will be dressed as a princess."
She adds: "Of course Baily is a bit awkward at just 4 years old and really doesn't know what to think about Bennet. Honestly, I think he overwhelms her a bit."
Jennifer said that that the attention the letter has received has cheered her up.
"Bennet was a very sick kid," she explained. "He was diagnosed with cancer at six months old and actually goes up for one of his last cancer checks in Portland, Oregon very soon. I'm always nervous about these checks and this has been a nice distraction."