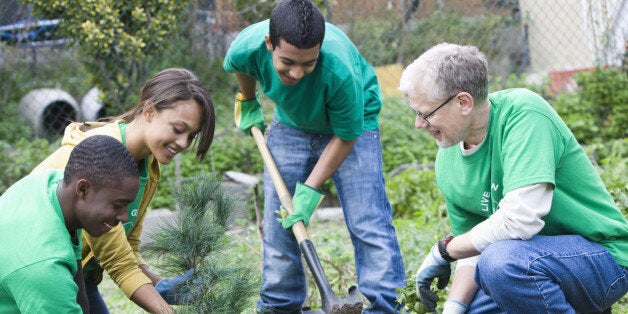 Millions of the nation's young people have taken part in campaigning, volunteering and fundraising in the past year, a poll has found.
It suggests youngsters are often involved in social action in their local communities, and says they enjoy helping others and supporting causes they believe in.
Girls are more likely to take part than boys, and the rates of participation are higher for young people from richer homes and those living in urban areas.
The survey, which questioned more than 2,000 10-to-20-year-olds, was commissioned to mark the first anniversary of the #iwill campaign.
The campaign is part of an initiative was launched 12 months ago by the Prince of Wales, with support from senior politicians, including Prime Minister David Cameron, Deputy Prime Minister Nick Clegg and Labour leader Ed Miliband.
It aims to raise the number of young people taking part in meaningful social action to 60% - around 4.5 million people - by 2020, by offering youngsters more opportunities and making it easier for them to get involved.
The findings show that in the past year, 40% had taken part in meaningful social action - around three million people - while a further 17% said they had participated infrequently and 43% said they had not taken part.
The most common activity among those young people who said they had taken part in some form of social action was fundraising, followed by volunteering for charity, helping someone in their local community, mentoring, helping to improve the local area and campaigning that was not political.
The vast majority of those questioned said that the social action they were involved in had benefited them personally as well as others, the survey found.
It reveals that the three most popular ways young people said it had benefited them was because they had enjoyed helping others, they had fun and they believed in the cause they were helping.
And the three most popular ways youngsters said the activity they had been involved in had helped others was because the money raised went to a good cause, other people had fun and the lives of others had improved.
Causes helped were much more likely to be local than have a national, or international, focus, the survey found, and youngsters were most likely to get involved through their school or college. It also reveals differences throughout the UK.
Young people in Scotland were the most socially active, with 49% taking part in the last year, compared to 39% in England and in Wales and 36% in Northern Ireland.
Around 46% of girls said they took part in social action in the last 12 months, compared to 35% of boys, while 45% of those from the richest backgrounds said they took part compared to 34% of those from the poorest.
Charlotte Hill, chief executive of Step Up To Serve, the organisation that coordinates the #iwill campaign, said: "This research shows clearly that there is a real appetite among young people to get involved and contribute to the communities in which they live.
"And by helping others, young people are also developing their own skills and character - so there's a double benefit. We want organisations across society to help us generate more opportunities for young people to play their part.
"They have so much to offer - let's work together to make the most of their skills and commitment."
Popular in the Community